Buying affordable technology is one of my favorite ways for you to save money in college. And if you buy one of the best Chromebooks for students in 2020, you could save a ton of money while still getting a quality machine.
I fully admit that I'm a bit of a Chromebook fanboy. I was an early adopter back in 2014. And I haven't purchased any other type of computer since. I love their simplicity, security, and yes, most definitely, their price.
But even I couldn't have imagined how popular Chromebooks would become so soon. They've been the most popular devices in elementary and high school classes since 2014. And more and more college students are considering them as viable options too.  My brother, who graduated with his undergrad this year, used a Chromebook throughout his entire college career.
It helped that my brother picked out one of the nicest Chromebooks available at the time. But even so, it cost him less than $500.  You can find similar value by picking one of the best Chromebooks for students listed below.
5 Best Chromebooks for Students in 2020
Right off the bat, I'm going to say that I excluded any Chromebooks that regularly cost $600 or more. So, yes, if you're a Google fan like me, that does mean you won't be seeing the Pixelbook on this list.
But paying that much money for a Chromebook kind of defeats the whole purpose of buying one in the first place. Plus, it kind of goes against everything this site is all about, which is saving you money.
But if you're looking for a great college computer on the cheap, below are the 5 best Chromebooks for students available today.
Best Overall: HP Chromebook x360
Ok, so I'll admit that I'm a little prejudiced on this one. The HP Chromebook X360 is the computer that I use every single day to run my blog and freelance writing business. And I absolutely LOVE it.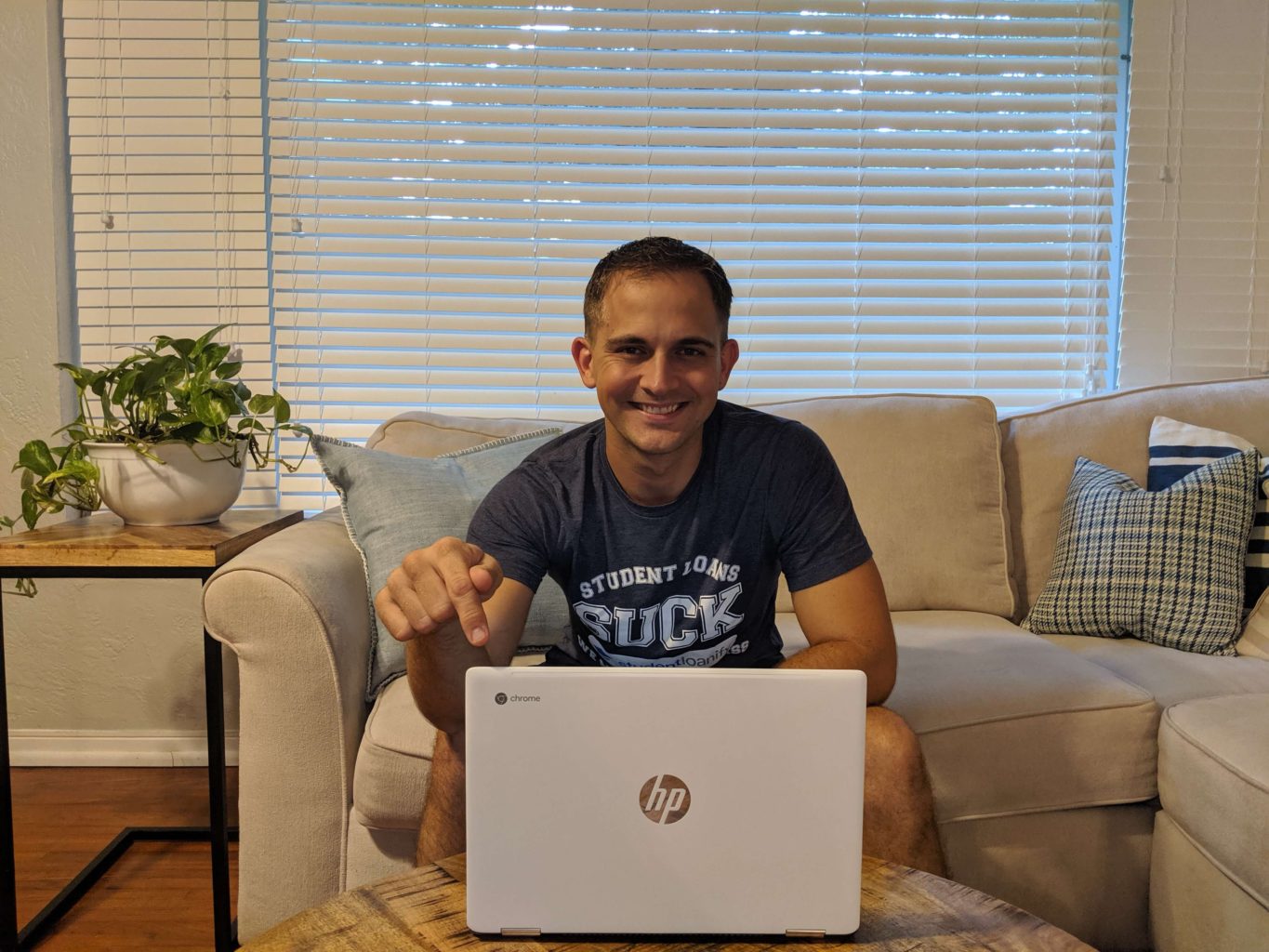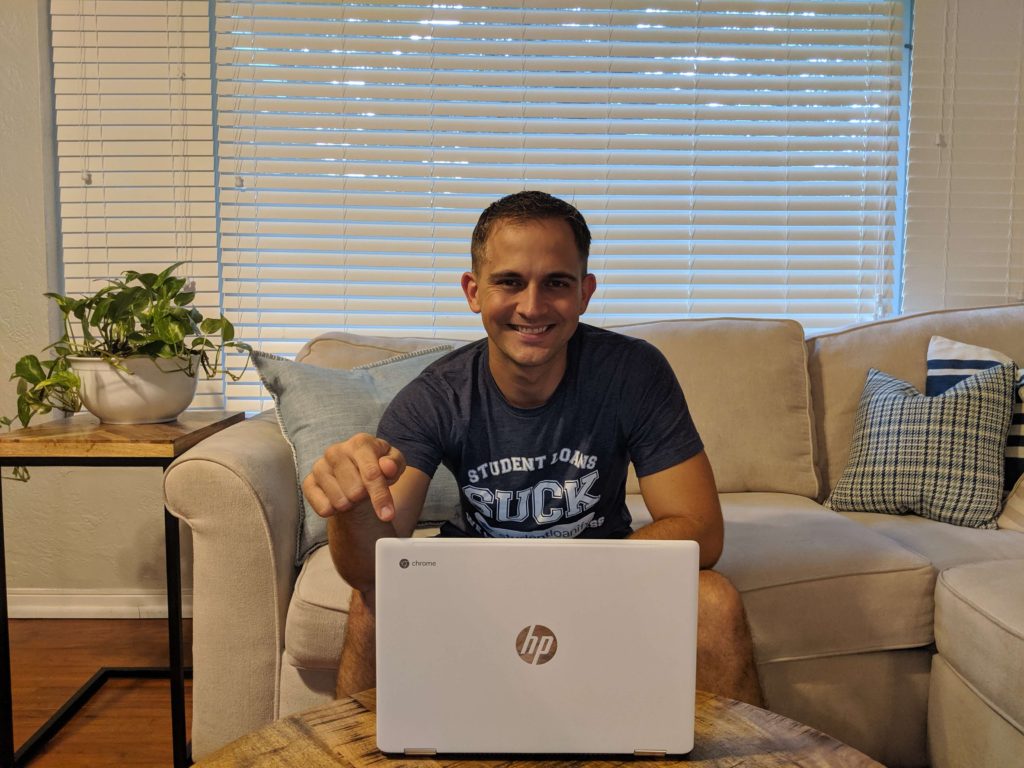 I used a MacBook Pro as my work computer before launching out as a full-time writer. So, yes, I know what a "nice" computer feels like.
But I've felt absolutely no drop off in speed or performance after moving to the HP Chromebook X 360. From the touch screen, to the trackpad, to the keyboard, to the battery life, I absolutely love everything about this Chromebook.
But don't just take my word for it. Listen to what the guys at Chrome Unboxed have to say about the HP Chromebook X360.
For those of you who are into specs, the HP Chromebook X360 comes loaded with an 8th gen Intel i3 processor, 8 GB of RAM, and 64 GB of storage. It also has a backlit keyboard, which is a rarity among Chromebooks, but will be a huge deal when you're writing papers late at night.
Right now, Amazon and Best Buy are both selling the HP Chromebook X 360, starting at $449.
Runner-up: ASUS Chromebook Flip C434.
Depending on which site you visit, you'll find many people who think that the Asus Chromebook Flip C434 is actually the best Chromebook currently available. And it's definitely got a lot going for it.
First off, the all-aluminum body is solid and elegant. And the keyboard and trackpad are as good as you'll find anywhere. But the 14″ touch screen on this Chromebook is what really sets it apart. It's bright, clear, and has slim bezels.
The processor is plenty strong enough to handle 10+ browser tabs being open at the same time (am I the only one who does that?). But if you're a serious power user and plan to have 15-20 tabs open in addition to running Android apps (like Spotify or Instagram) in the background, you may run into performance issues.
I personally feel that it's a little pricey, which is why I couldn't give it the nod for "best overall." But I also don't think you'll be disappointed if you decide to go with this laptop.
Check out Engadget's review of the Asus Chromebook Flip C434.
The Asus Chromebook Flip C434 comes with an Intel Core m3 processor, 4 GB of RAM, 64 GB of storage, and a full-HD display.
You can purchase the Asus Chromebook Flip C434 from Amazon or Best Buy, starting at $555.99.
Best Under $300: Lenovo Chromebook C330
If you're really looking to ramp up your savings, you may want to choose the Lenovo Chromebook C330. It's got a starting price tag of $249.99, which makes it one of the best Chromebooks for students on a budget.
The Lenovo Chromebook C330 boasts an all-day battery life and a fully-convertible touch screen. The smaller form factor may also fit better on your lap when you're trying to take notes during class.
And the processor is much better than would be expected for a computer in this price range. You shouldn't experience any lag while you're researching and writing papers.
And, technically, you can download Android apps and games on this computer too. Although, if you're particularly looking for a gaming device, this probably isn't going to be the Chromebook for you.
Check out the Lenovo Chromebook C330 review from 9to5Google.
With the Lenovo Chromebook C330, you'll get a MediaTek MT8173C Processor, 4 GB of RAM, and 64 GB of storage. It also comes with 1 USB-C port, 1 USB-A port (I like it when computers include at least one USB-A port), and an SD card reader.
If you decide this is the Chromebook for you, you can find it on Amazon starting at $249.99.
Best Display: Samsung Chromebook Plus V2
Again, I have to give a disclosure on this one. My brother owns the Samsung Chromebook Plus (first generation) and I'm consistently blown away with the display quality on his laptop.
And although I'm very happy with my HP Chromebook X360, I have to admit that I think Samsung has the edge when it comes to the best screens.
The Samsung Chromebook Plus V2 is fully convertible and comes with a stylus for the touch screen. Once again, Chrome Unboxed has a great review of the Samsung Chromebook Plus V2.
The Samsung Chromebook Plus V2 comes with a dual camera, 2 USB-C ports, and 1 USB-A port. Finally, this laptop comes with 4GB of RAM and 64 GB of storage.
You can find more product info on the Samsung Chromebook Plus V2 and buy it on Amazon or Best Buy starting at $379.29.
Best Detachable: HP Chromebook X2
The HP Chromebook X2 has a unique design that makes it simple to snap the display in and out from the keyboard. This makes it one of the best Chromebooks for students who are looking for a laptop that can double as a tablet. It also comes with a built-in stylus.
With the introduction of Android Apps to Chromebooks, you can download video apps like Netflix or YouTube, which makes them more attractive as entertainment devices. With Netflix, you can even download shows and movies directly to your laptop. That can come in super handy during long road trips without Wi-Fi access.
But all these features don't matter if the HP Chromebook X2 can't actually help you get work done. After all, this is a "best Chromebook for students" list. Thankfully, the HP Chromebook X2 comes with a nice keyboard and trackpad and can more than adequately function as a "get things done" device.
Check out PC World's review of the HP Chromebook X2.
The HP Chromebook X2 comes with an Intel Core M3 processor, 4GB RAM, and 64GB of flash storage.
If you think that the HP Chromebook X2 is the Chromebook you're looking for, you can buy it on Amazon or at Best Buy, starting at $438.00
Conclusion:
Finding the right Chromebook for you depends completely on your price range and what you need to be able to do on your computer.
But no matter your budget or laptop needs, there's a good chance that one of the Chromebooks listed above will be a good fit.