Forbearance, Deferment, and Forgiveness

4.3/5
Pros
Affordable payment options for medical residents
Parent Plus refinancing
Graduate school "in-school" loans with attractive rates
Cons
No in-school academic deferment
12-month cap on forbearance for financial hardship
Borrowers not assigned a dedicated representative

If you're looking to refinance student loans, Laurel Road could be a great choice. They don't include junk fees, they have competitive interest rates, and they offer a few unique perks for medical residents.
In fact, we like Laurel Road so much that we included them in our Best Lenders to Refinance Student Loans guide. Read our full review to see if Laurel Road could be a good fit for your situation.
What Makes Laurel Road Unique?
As usual, we begin by taking a look at the distinctive features and benefits that set Laurel Road apart from other student loan lenders.
1. Low Payments for Medical Residents
Residency can be a difficult time for aspiring doctors and other medical professionals. They have to begin making payments on their massive student loans, yet their income will be average for several years.
To help medical students get through this tough financial period, Laurel Road only requires them to make $100 payments during residency and fellowship. You can even continue making those $100 payments up to 6 months after you finish your residency.
That's nice, but it's important to note that Splash Financial currently offers the most appealing program for medical residents. They only require $1 payments during residency or fellowship.
Related: Read our editorial review of Splash Financial.
Here are the current interest rates for Laurel Road's medical student loan refinancing program.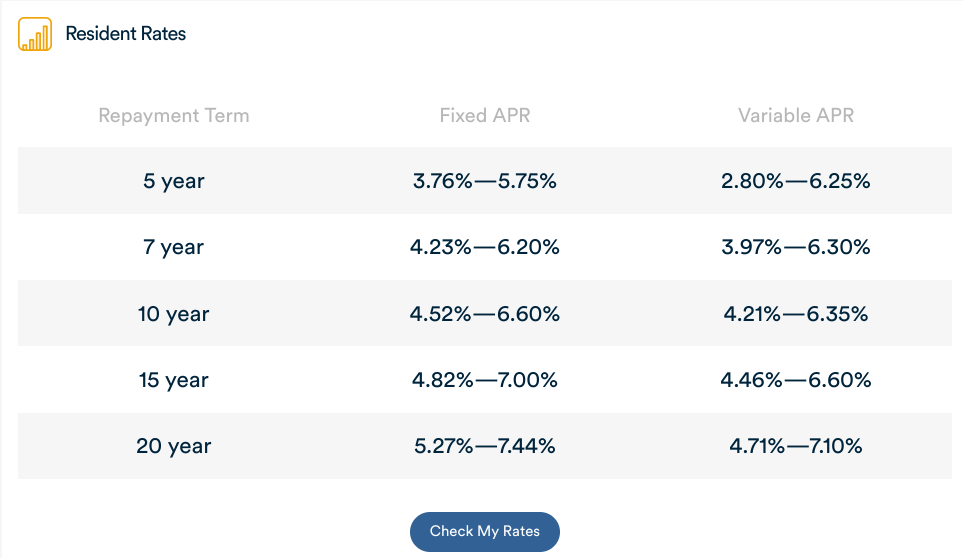 I highly recommend that you compare Laurel Road's rates with other top lenders by using Credible.
Credible is like the Kayak of student loans.
It gives you the ability to compare several student different student loan refi companies at one time.
You should never take out any new student loan or refi until you've checked Credible to see what other lenders can offer you.
Related: Read our review of Credible and our guide to using their comparison tool.
2. Parent Plus Loan Refinancing
While it can be difficult to find student loan refinance companies that will refinance Parent Plus loans, Laurel Road is one of the few that will.
Not only will Laurel Road allow parents to refinance these loans themselves, but they can also request to transfer them to their children.
Children will need to be professionally employed in order to have the loans transferred to their names and the interest rate that they are offered will be based on their creditworthiness.
Here are the interest rates that Laurel Road is currently offering on Parent Plus loan refinances.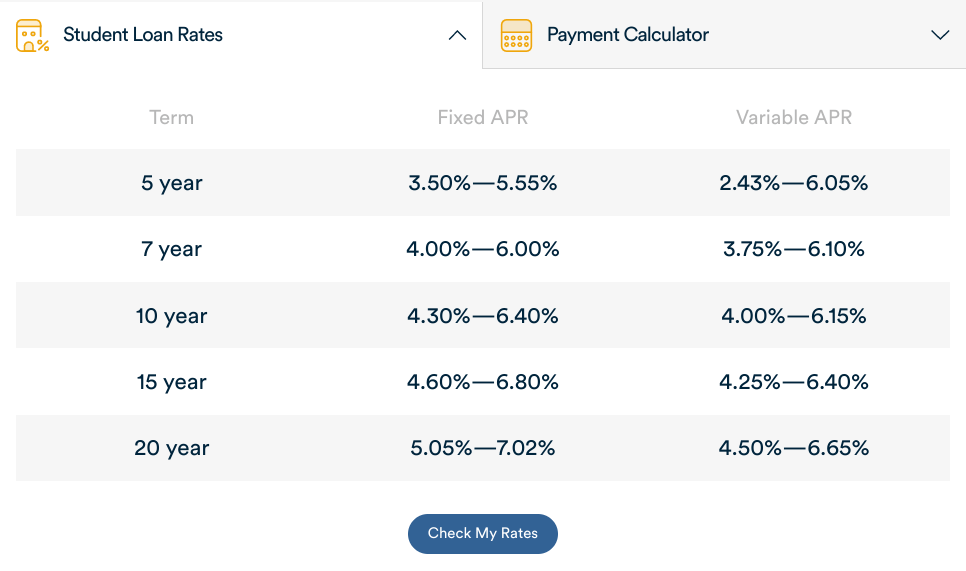 3. Graduate School Loans
Grad school can be expensive, especially since the federal government interest for grad school loans aren't nearly as attractive as the rates that they offer on undergrad loans.
For the 2019-2019 school year, Grad PLUS loans come with an interest rate of 7.08%. That means grad students may have a better chance of saving on student loans by choosing a private lender than an undergrad would have.
On the other hand, grad students tend to have higher incomes after graduation, so they are a high-value target for lenders. For this reason, Laurel Road and other private lenders, offer special student loans for graduate students.
Not Every Graduate School Program Qualifies
But to qualify for Laurel Road's graduate student loan program, you'll need to be studying specific degree programs at eligible schools. Some of the examples that Laurel Road gives of disciplines that qualify are:
Dentistry
Law
Business
Engineering
Nursing
Physician's Assistant
Medicine
You may be able to qualify if you are studying in other disciplines as well, but these are the examples that they give.
If you're considering going with a private lender for your MBA program, you may also want to check out the MBA loans offered by CommonBond, which include internship programs and a career summer development series.
Related: Read our editorial review of CommonBond.
Here are the current interest rates being offered on Laurel Road's graduate school loans.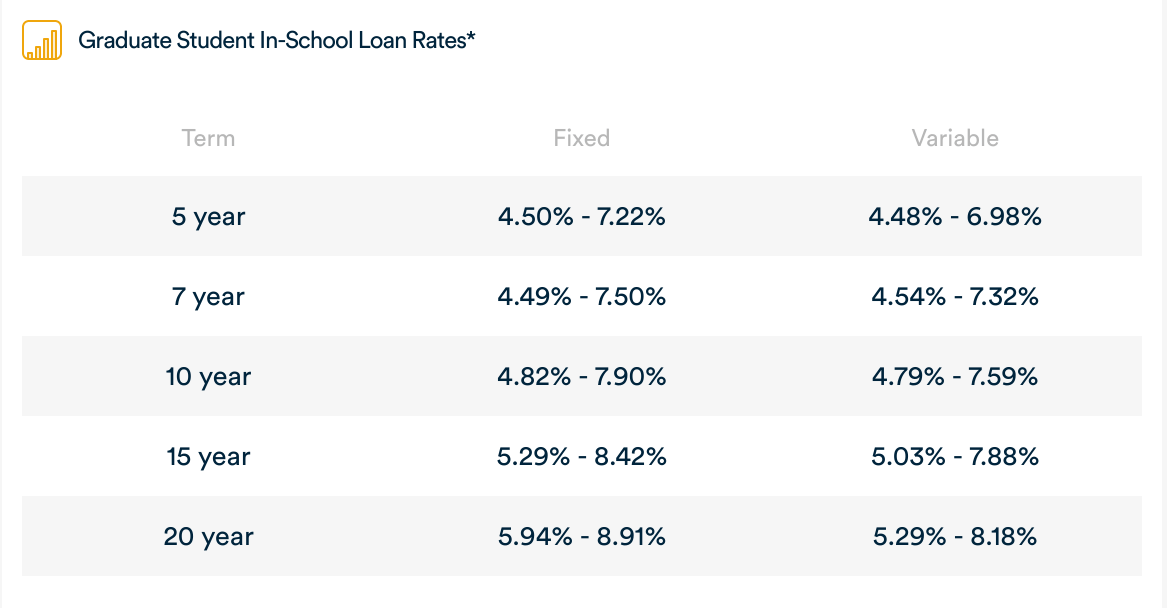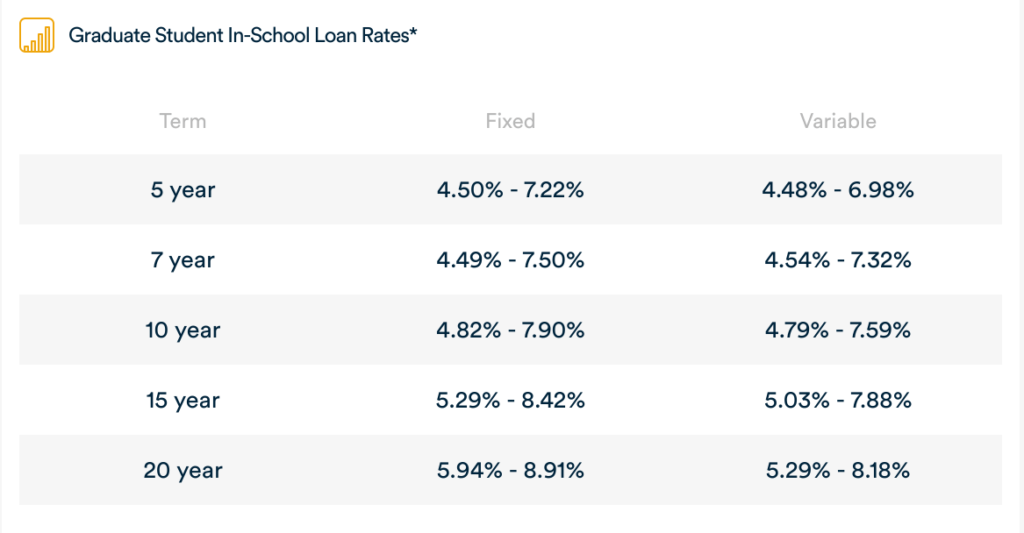 What Else Do You Need to Know About Laurel Road?
There are a few other things that you'll want to know about Laurel Road before deciding whether or not they're a good fit.
Junk Fees
Laurel Road fares well in this department.
Origination fee: No
Prepayment penalty: No
Late fees: Yes, 5% of the late payment or $28, whichever is less, applied after a payment is 15 days late.
Customer service
MOHELA is the loan servicer on Laurel Road student loans
Laurel Road does have an in-house customer service team
If you have a complaint, they do have a process whereby your issue can be escalated to a customer service manager.
Borrowers do not get assigned a dedicated representative.
Repayment Periods
All of Laurel Road's student loans come with the following repayment term options.
5 years
7 years
10 years
15 years
20 years
This is pretty much the industry standard in regards to repayment term periods. If you're looking for flexibility on your repayment terms, you may want to check out Earnest.
Related: Read our editorial review of Earnest.
Requirements
Here are the key requirements and eligibility criteria that you need to be aware of with Laurel Road.
Minimum loan amount: $5,000
Minimum credit score: 660
Typical credit score of approved borrowers or co-signers: Not disclosed
Typical income of approved borrowers: Not disclosed
State Eligibility: Available in all 50 states
Allows co-signers: Yes, and allows co-signer releases as well
Must have graduated: Yes, with few exceptions, you'll need at least a bachelor's degree
Must have attended a Title IV-accredited school: Yes
Payment Flexibility and Forgiveness
Academic deferment: Technically no,  although they do offer lower payments during residency for medical students.
Forbearance: Laurel road will postpone loan payments for three months at a time, for up to 12 months total. You'll need to prove that you have a qualified economic hardship, such as unpaid maternity leave or having lost your job through no fault of your own.
Death and disability forgiveness: Yes. (this is a big deal as many private lenders do not offer this benefit)
Our Warning to Federal Student Loan Borrowers
As we make clear in our student loan refinance guide, federal student loan borrowers need to think long and hard before refinancing into private loans.
When you move a federal loan to private, you lose all of your federal student loan benefits. While Laurel Road offers quite a few benefits themselves, there are a few that they cannot offer — specifically income-driven repayment plans and eligibility for Public Service Loan Forgiveness.
You, ultimately, may decide that the lower monthly payments would outweigh the loss of the federal student loan benefits. But that's a decision that you should make with a full understanding of what you'd be giving up.
Conclusion:
Laurel Road could be a good fit for medical professionals in residency and graduate students. They could also be a good choice if you're wanting to refinance a Parent Plus loan or transfer it to a student.
If you fit into one those of categories (and if you have a healthy income and good credit score), refinancing your student loans through Laurel Road could save you a lot of money!