We are nearing the end of 2019, so a lot of people are wondering what the best passive income ideas are for 2020. While nobody has a crystal ball, I can tell you what methods I am following and what is earning me the most money.
The idea of earning a passive income has always fascinated me. The first time I had heard about it was when I read the book Rich Dad, Poor Dad by Robert Kiyosaki. This book explained how the poor work for money while the rich allow money to work for them. After hearing about it, I was hooked on the idea of making money while I sleep.
Fast forward almost 5 years, and I now have multiple sources of passive income making me money 24/7. Most of them are small amounts, but over time they will add up thanks to compound interest!
5 Passive Income Ideas for 2020
Like anything else out there, you will find there are countless ways to make passive income. But there's one thing that I've always found to be true.
When it comes to earning passive income, you either have to invest your money or your time.
If you already have money, you can simply invest that money and earn a return from it. If you don't have money, you can invest your time into building something that will eventually pay you without your active involvement.
That being said, here's exactly how I am earning passive income right now.
1. Interest Income
Of all the passive income ideas on this list, I'll admit that this one is the most boring. But it is a way that I am currently earning 100% passive income.
For a number of reasons, I've been increasing my cash reserve in 2019. For one thing, the stock market is at an all-time high. Another reason is the fact that I made a major real estate purchase this year too. I needed to have liquid cash, so I saved up a lot and left that money in my online savings account with Ally Bank.
They currently pay a 1.70% APY which is significantly higher than the national average savings account rate. However, if you shop around you could probably find a better rate elsewhere.
I currently have a little over $80,000 set aside in this account. In 2019 alone, I have earned $906.69 in interest just by leaving my money in this account. Ally pays interest on a monthly basis. And based on my current account balance that allowed me to earn $118.69 in interest for the month of November 2019.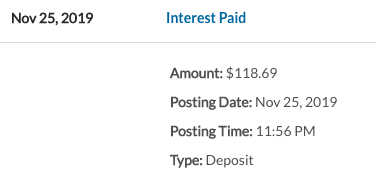 It isn't much money, but it is 100% passive. Eventually, I will invest this money. But until I decide what I am going to invest in I will leave it parked here with Ally earning a decent rate of return.
2. Stock Market
I've been earning investing in the stock market for many years now. This is one of my favorite passive income ideas because it can be completely passive.
Some people choose to invest in individual stocks, which means they take time to research them and decide what to invest in. However, if you want to be completely hands-off you can simply invest in index funds that give you exposure to the entire market.
For example, many people just invest in VOO, which is a fund that gives you a small piece of the 500 largest publicly-traded companies in the US.
How to Earn Passive Income With the Stock Market
There are a few different ways to earn passive income from the stock market. The first one is dividends.
Well-established companies will often reward shareholders by paying a dividend on a monthly, quarterly or annual basis. Simply put, as long as you own the shares you will earn those dividends as long as the company continues paying them.
Another method is through asset appreciation. This happens when you purchase shares of a company or fund at a lower price and sell them for a higher one at a future date.
If the share price went up by $10 and you own 1,000 shares, you just made $10,000! These are the two primary ways that people are making passive income in the stock market.
Related: How to Invest in Your 20s
3. Rental Property
This passive income idea is brand new for me going into 2020. And that is owning physical real estate and collecting rental income.
I purchased my first property over the summer, and it is a 3-family dwelling. I live in the main house, and there are two apartments attached to the same building that I rent out. There are a number of benefits to owning real estate. But one of the key ones is that you can earn rental income which can be completely passive.
Now I will say this, it isn't 100% passive every single month. Occasionally you will have to fix a leaky toilet or change a light bulb here and there. But so far I have found that most months have been completely hands-off.
I simply wave to my tenants in the driveway when I see them. And on the first of the month, I have two checks in my mailbox.
I am using that rental income to offset my mortgage, so the property is not cashflow positive. However, this does allow me to live in a very nice two-bedroom house for the same price as it would be for a tiny apartment. This is a strategy known as house-hacking.
Later on, in 2020, I may decide to invest in another rental property. If I purchased a duplex, for example, it would be possible to rent out both sides and be cashflow positive.
At this point, the rental income exceeds the mortgage and you are earning money every single month from the property. On top of that, real estate tends to appreciate in value as you own it. So that's yet another option for making money with it!
Related: The 3 Biggest Pros and Cons of Airbnb Hosting
4. Crowdfunded Real Estate
I have been investing in crowdfunded real estate since June of 2018. Personally, I invest with Fundrise. But there is an array of different crowdfunded real estate investing platforms out there.
I like Fundrise because it is 100% passive, hands-off investing. You simply invest your money in one of the different portfolios offered on the site. I personally invest in the Balanced Investing plan, which gives you a blend of both growth and income-producing investments.
How to Make Passive Income With Fundrise
In a nutshell, here's how it works. Fundrise pools money from investors through crowdfunding. We all pitch in money and that money is used to invest in real estate projects. I have personally invested $5,000 with them.
There are two types of investments being made and those are debt and equity.
Debt investments are where investors are backing a loan, acting like the bank in the transaction. In this case, money is earned from the interest payments on the loan.
Equity investments are where investors have an ownership stake in the property. If the property is earning rental income, that money is passed along to the investors.
Fundrise pays investors like me with quarterly payments called distributions. It's important to remember that just like with the stock market, these distributions are never guaranteed. In exchange for facilitating all of this, Fundrise collects a 1% fee.
In 2019, I earned $181.99 in dividends or distributions and $23.29 from asset appreciation.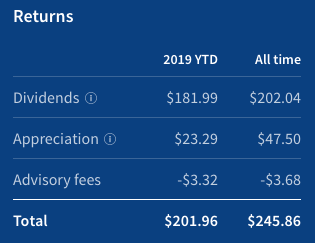 This is completely passive because I simply gave them my money to invest and they handled the rest. I personally reinvest my dividends. But you can also have them deposited directly into your bank account. Start your Fundrise account.
5. Affiliate Blog/YouTube
Another one of the passive income ideas that I'm passionate about is blogging. I launched the Investing Simple blog with my business partner Ed Canty back in August of 2018.
Blogging is one of those methods for earning passive income that mostly requires the investment of your time rather than money.
There are some costs associated with blogging, like a web host and domain name. But, for the most part, it's mostly an investment of your time. Each week, we release a few articles related to finance, investing, credit score and other topics.
How to Make Passive Income With Blogging
So, how do we make money? If you look at our site, you won't see any ads. That's because we don't run them.
We are actually making money through affiliate marketing. This is a business model that has been around for a very long time. In a nutshell, we get paid for referrals.
Ed and I both have knowledge related to investing. So we write reviews of different investing platforms on the blog as well as comparison articles. When someone reads one of them and clicks our links, we earn a commission if they sign up.
The blog started off very slow. But in 2019, so far we've made $29,654.41 in revenue. Now, we do have some expenses associated with this blog since we pay a writer and SEO guy. But you could do these things yourself if you learned the skills required.
Some months are better than others, but we are currently aiming to reinvest the profits from the blog to grow it and scale it into a larger passive income source in 2020! We do spend time each week creating content. But most of the money we are earning is coming from the older content on our site that we already created.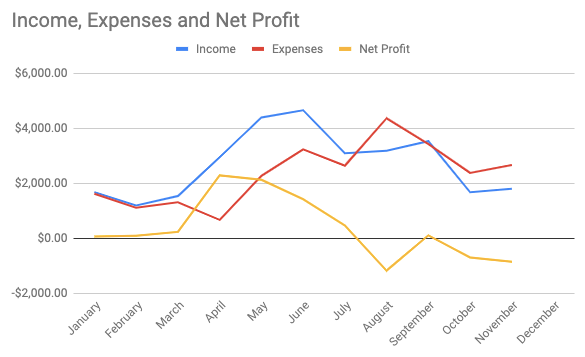 How to Make Passive Income With YouTube Videos
I also earn money from YouTube in a similar way. I do run ads on my channel, so I am making money from the ad revenue.
However, a good portion of that ad revenue comes from the videos I am actively producing. That means it's somewhat passive and somewhat active income.
When you make a video, it could potentially get views for months or years to follow. However, you need to keep producing content in order to "keep the fire stoked" as I say.
Similarly to the blog, I also review different investing apps and brokerages on my channel. These are some of the most valuable pieces of content for me because I create them once and they continue making me money for the rest of the year through referrals.
Every year, I simply make a new version of that review for the new year to keep the content fresh and updated!
Conclusion:
At the end of the day, you either need to invest your time or your money in order to earn passive income. A lot of people out there are searching for something that requires no time and no money that could allow them to make money.
The truth is, you'll never find it. Once you find the right idea or ideas you want to follow, it's important to stick with it! Something like blogging for example will take some time before you see results.
But the rich allow money to work for them. And it's important that you begin doing the same if you want to join them. So, what idea will you be following?
Author bio:
Ryan Scribner is a full time YouTuber and founder of the Investing Simple blog. He talks about investing, personal finance and different money making ideas. After starting his channel back in 2016, he decided to quit his job as a utility worker and go full time with online business. Now, he teaches others how to build online businesses around what they are passionate about. He just surpassed 500,000 subscribers on his channel. Outside of work, Ryan enjoys traveling the world, being outdoors, playing guitar and craft beers.