Savology is a website that's trying to revolutionize the accessibility and affordability of financial planning services. While a financial plan can play a critical role in helping you create and reach financial goals, consulting with a professional planner can also be very expensive.
It's not unusual for a financial plan for a Certified Financial Planner® (CFP) to cost in excess of $1,000. However, with Savology, you can create a comprehensive financial plan for free. In minutes, you'll be able to identify your best financial strengths in addition to the areas that need the most work and attention.
How is Savology able to offer this kind of functionality for free? Keep reading our full Savology review to learn more about how the platforms works and all that it has to offer.
How Savology Works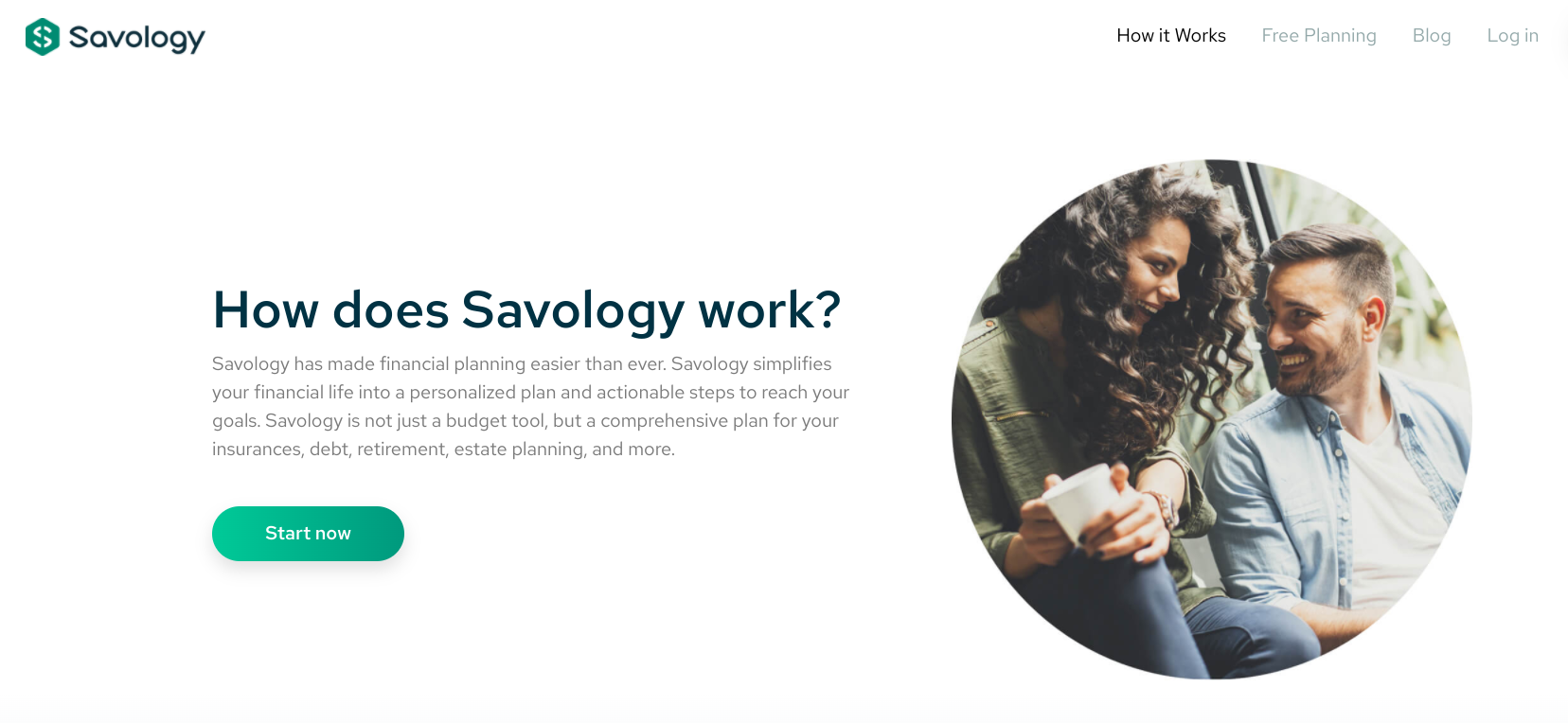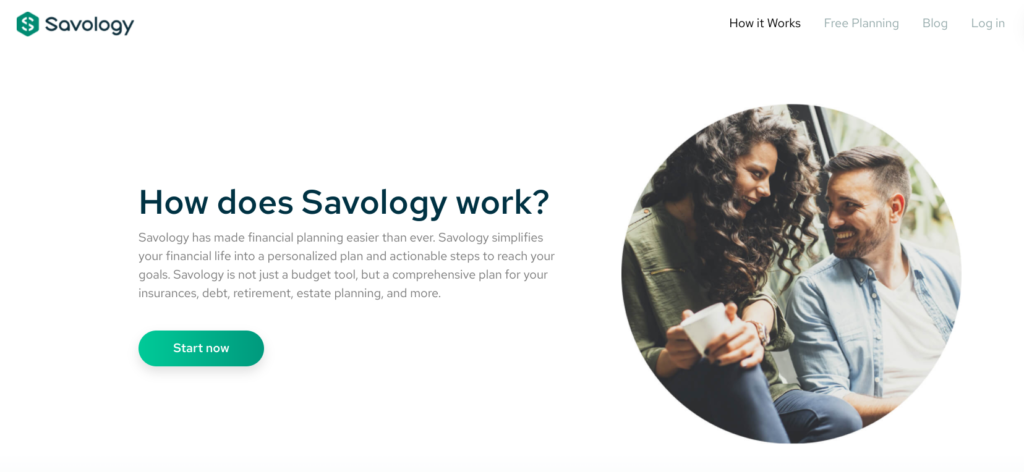 Savology is a fintech company that leverages technology to give automated financial advice based on your personal situation and goals. Their "secret sauce" really lies in their ability to take limited amounts of personal information about you and use it to create a thorough financial roadmap.
Onboarding Survey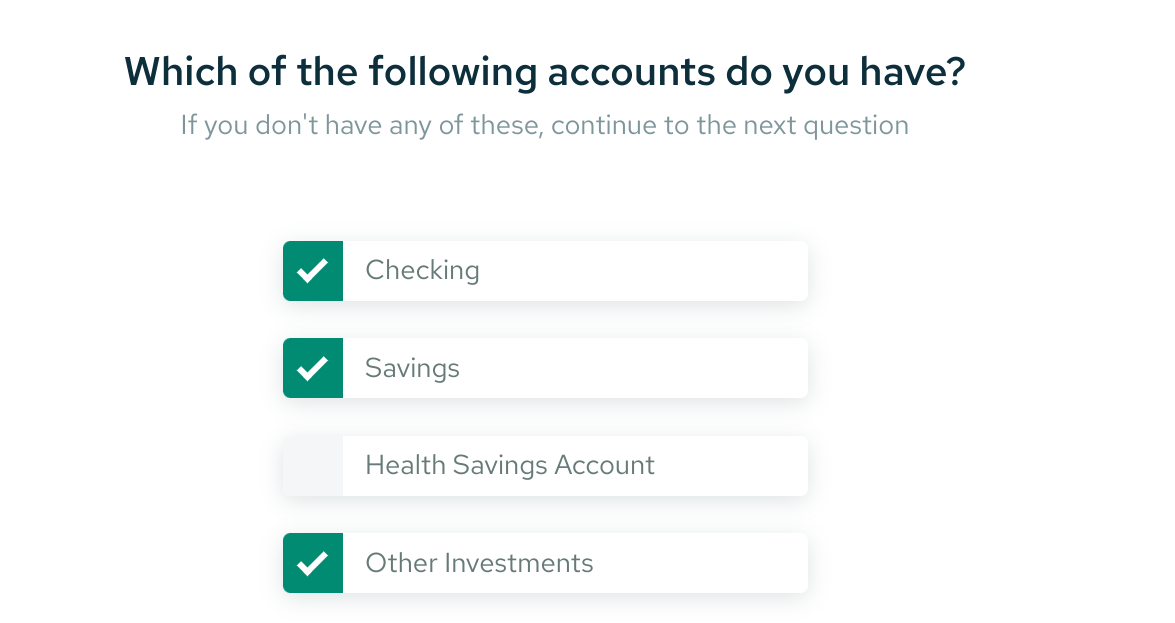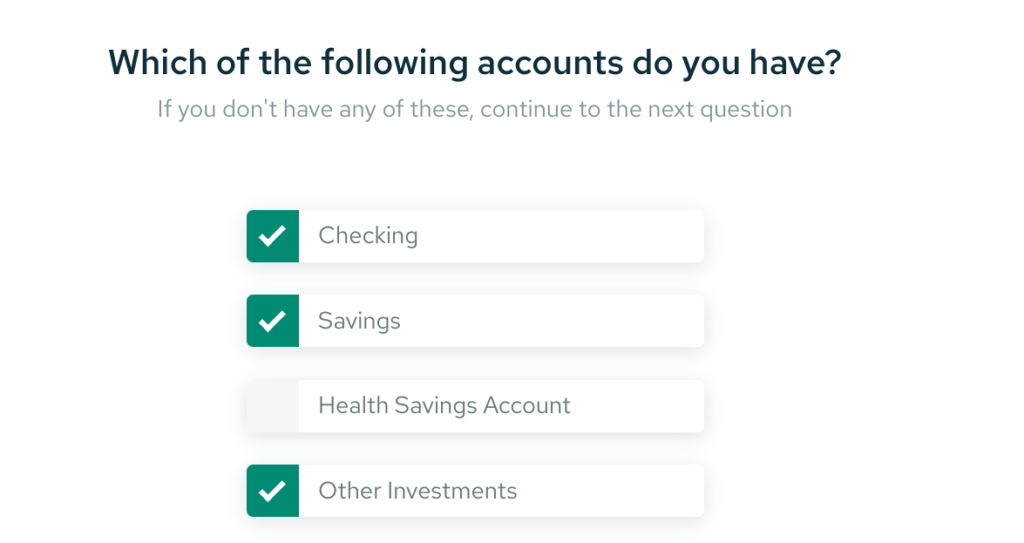 The Savology financial planning process begins with taking their 5-minute survey. During the survey, you'll be asked about your marital and parenting status, savings and debt, insurance policies, major assets like your home and car, and estate planning documents.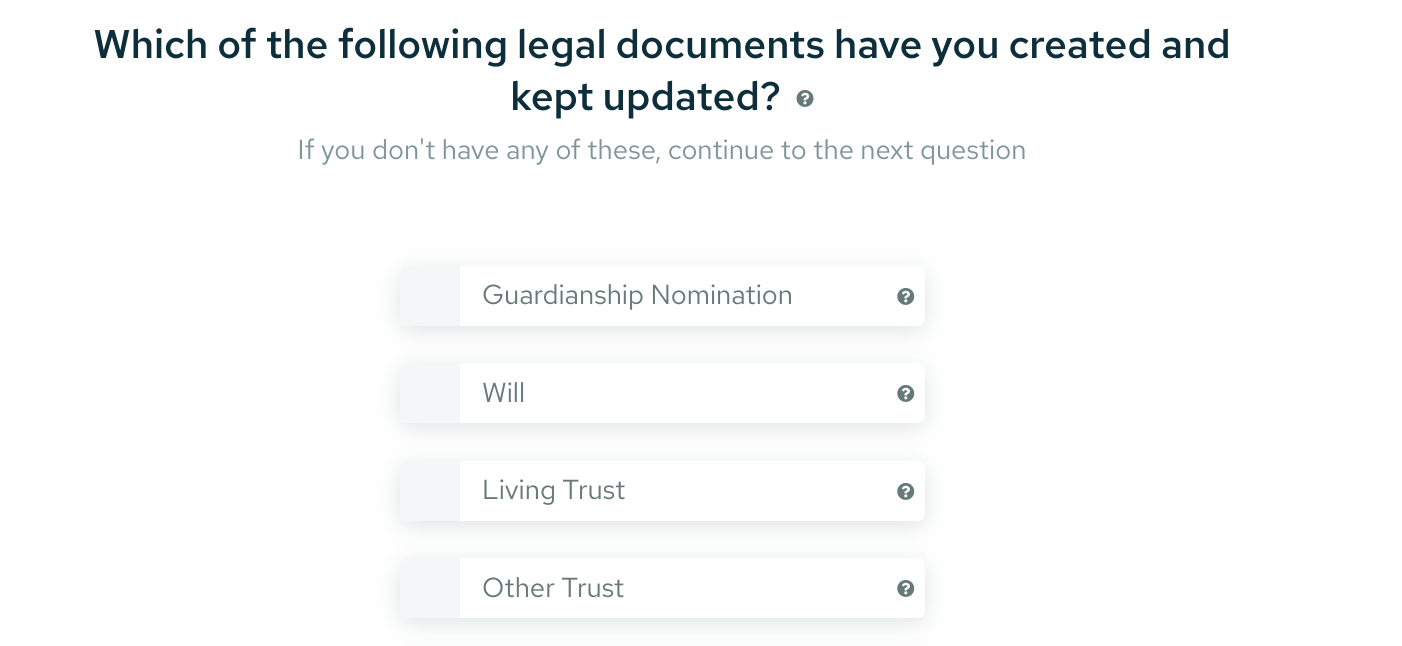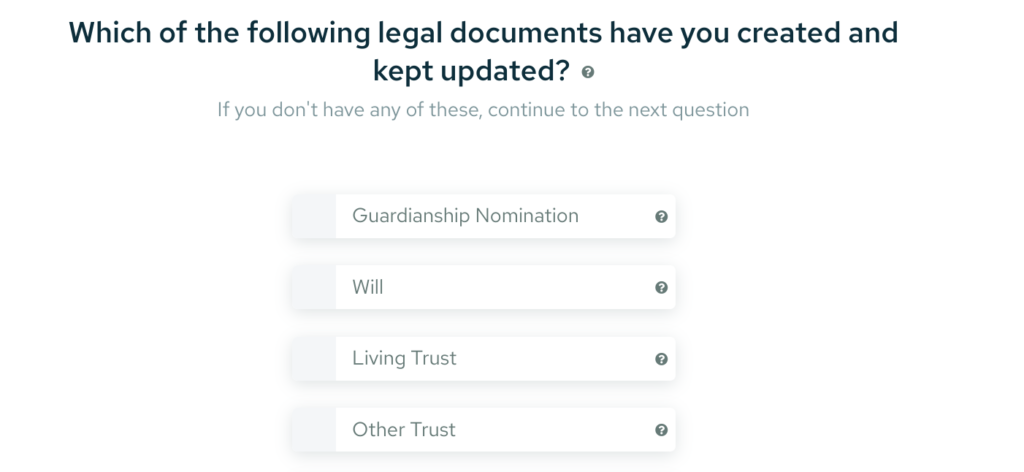 Such a list of questions may seem like an invasion of privacy. But, actually, Savology is very careful to only ask for information that it truly needs to create your financial plan.
You won't be asked to provide personally identifiable information like your Social Security number or address. In fact, Savology doesn't even ask for your last name.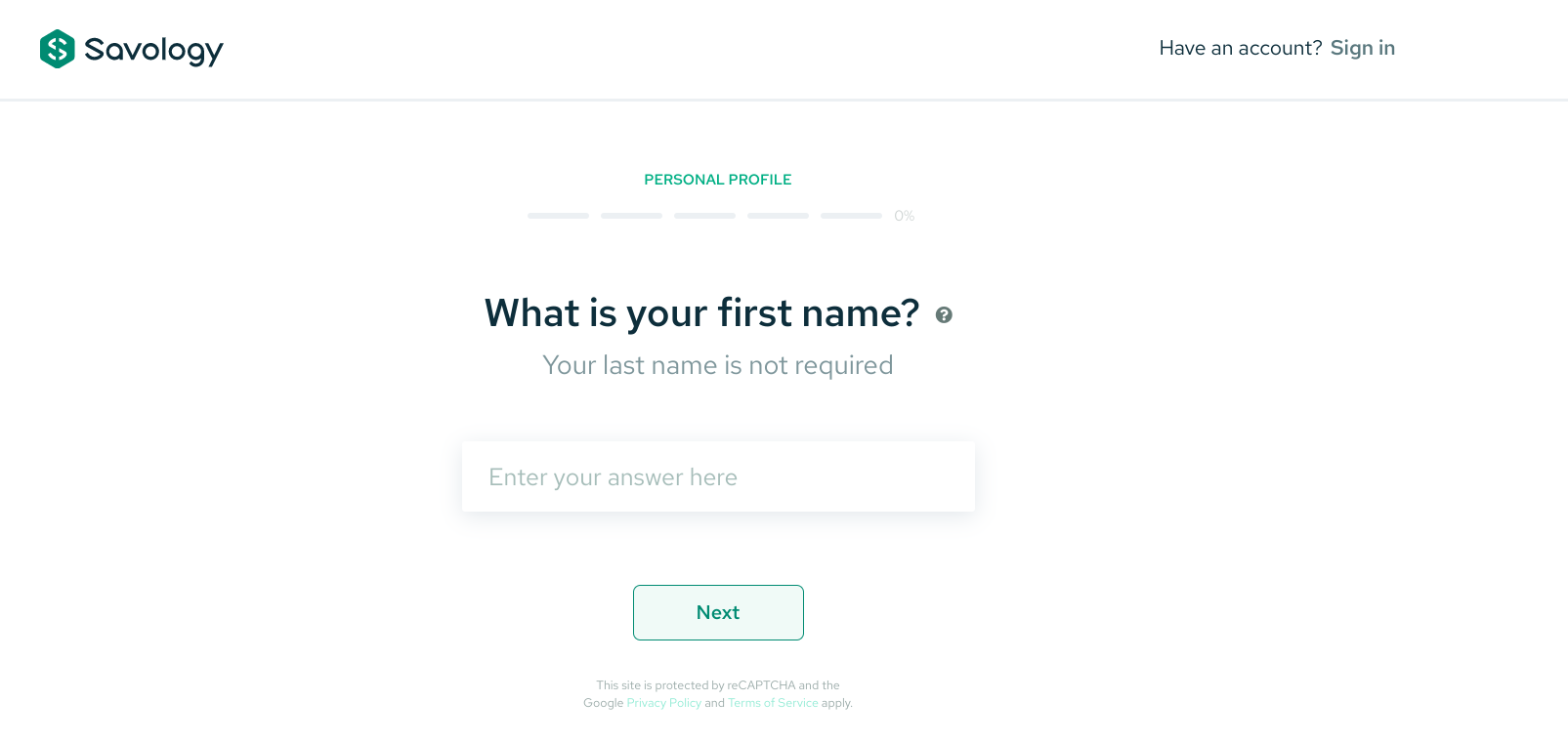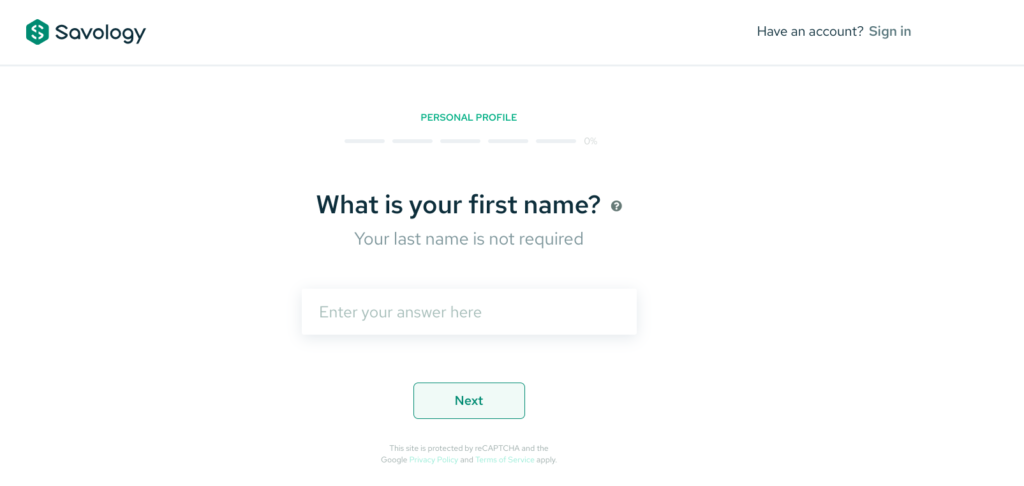 As promised, I was able to complete Savology's onboarding survey in about 5 minutes. Upon completion, Savology asked for an email address and password.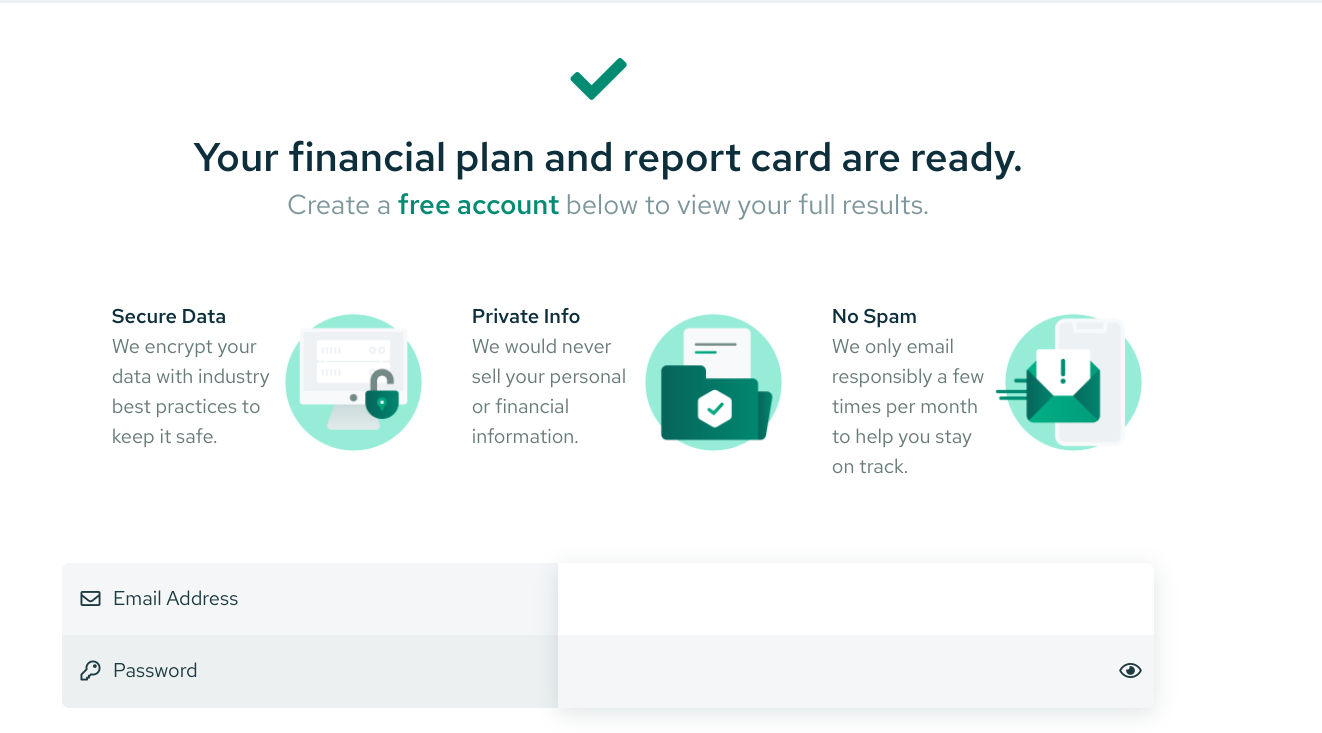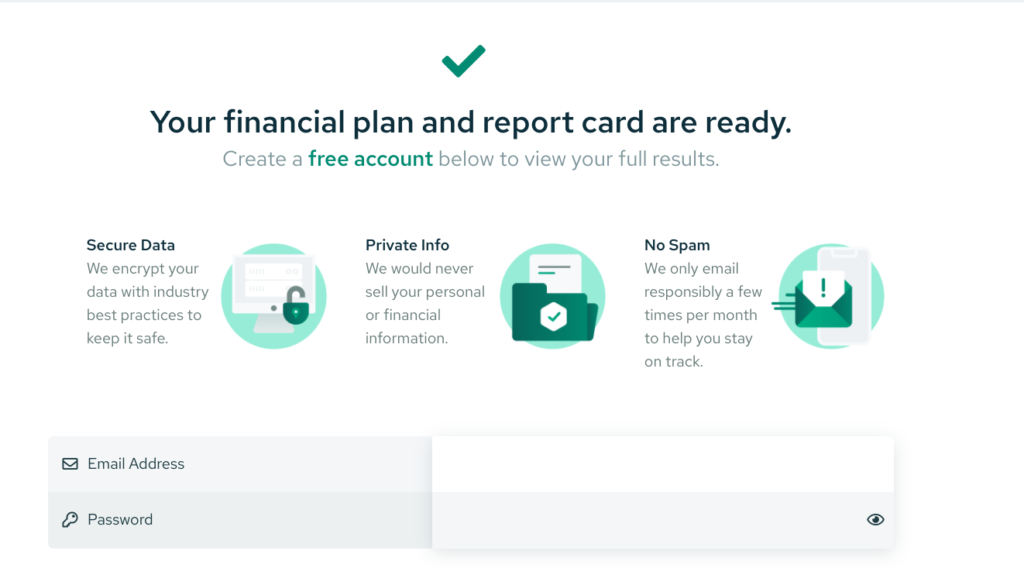 And, just like that, I was immediately transported me to my own account dashboard that included a personalized financial plan and other helpful tools.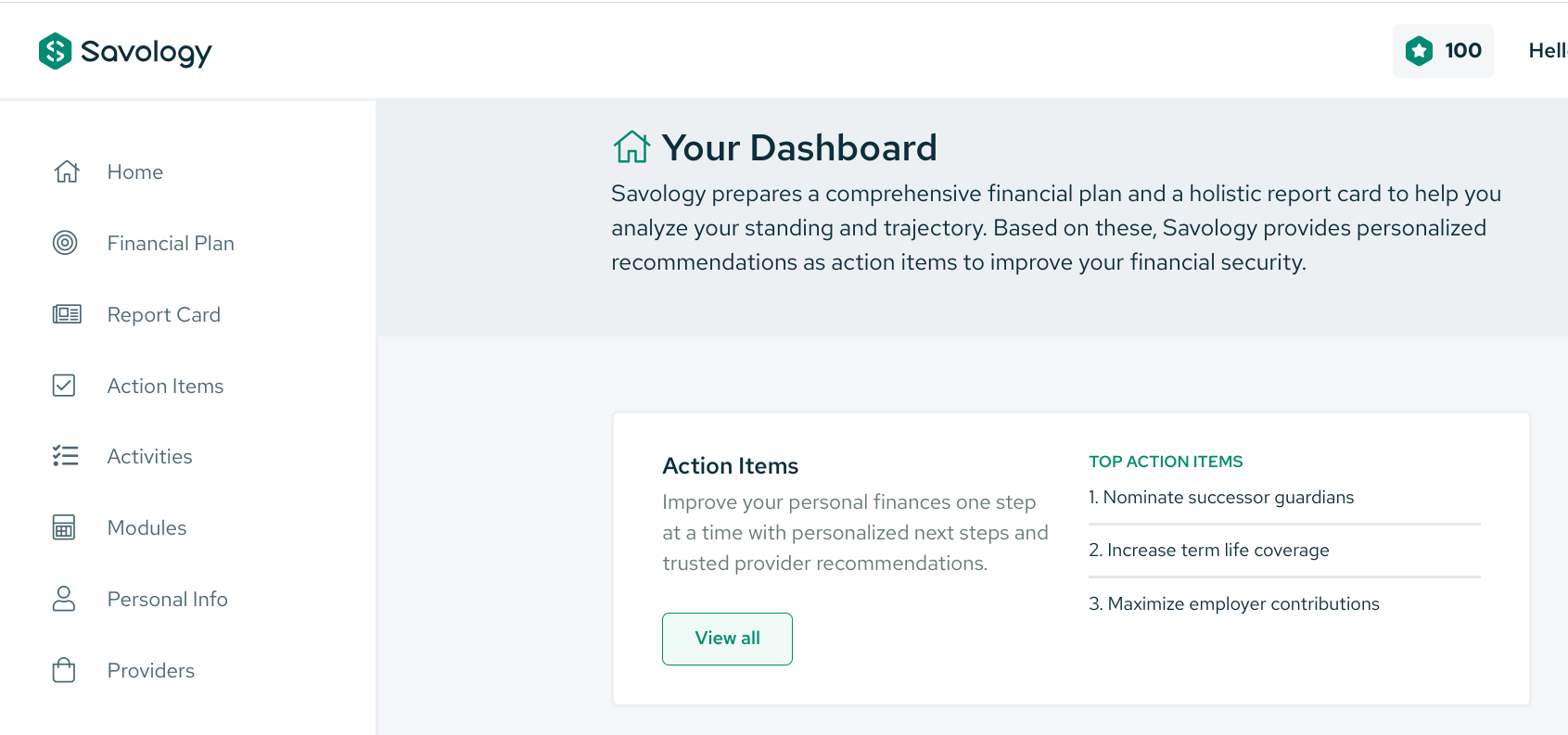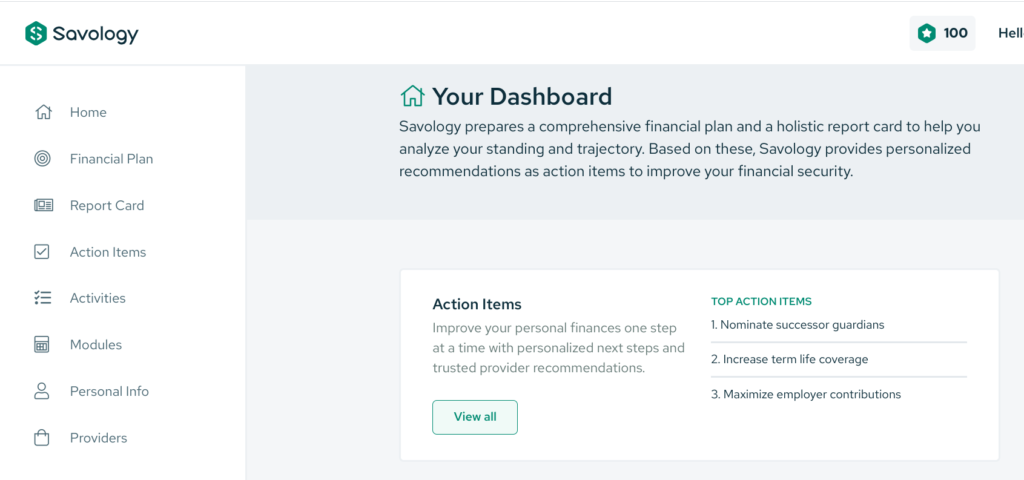 Savology Dashboard
Inside the Savology dashboard, I noticed five main options on the left-hand navigation pane:
Financial Plan
Report Card
Action Items
Activities
Modules
Since creating a financial plan was my main reason for trying Savology, I decided to check it out first. My personal Financial Plan was broken into five sections:
Summary
Savings
Assets
Risk
Retirement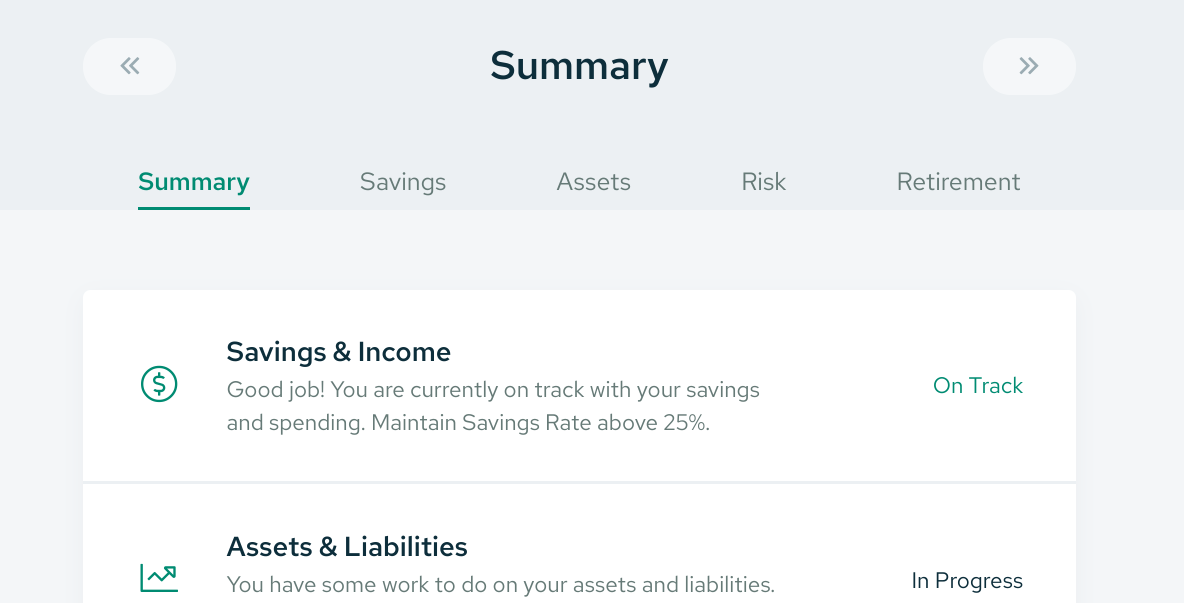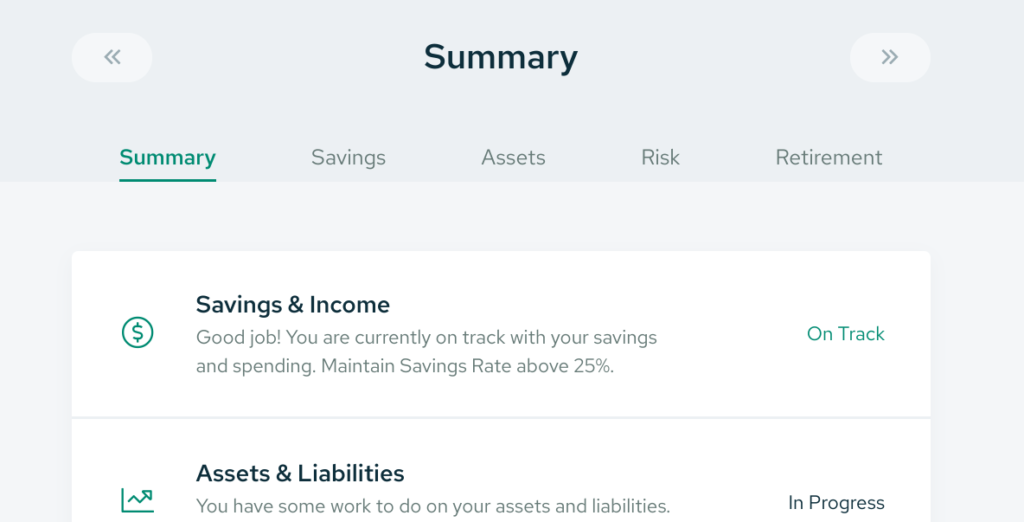 From the summary tab, I was able to get a birds-eye view of how I was doing overall. I could also dive in to any specific section to get ideas for improvement.
Savology's "Report Card" feature also provided me with financial grades. Overall, I received a B+ grade, which I was fairly pleased with.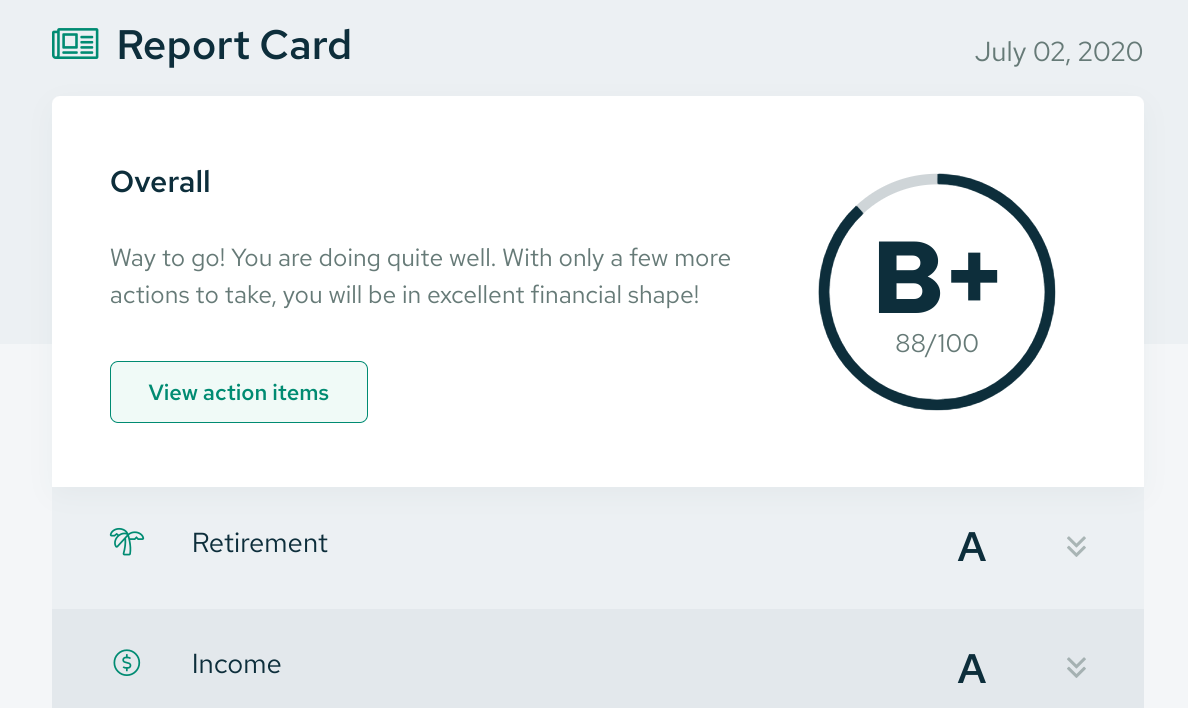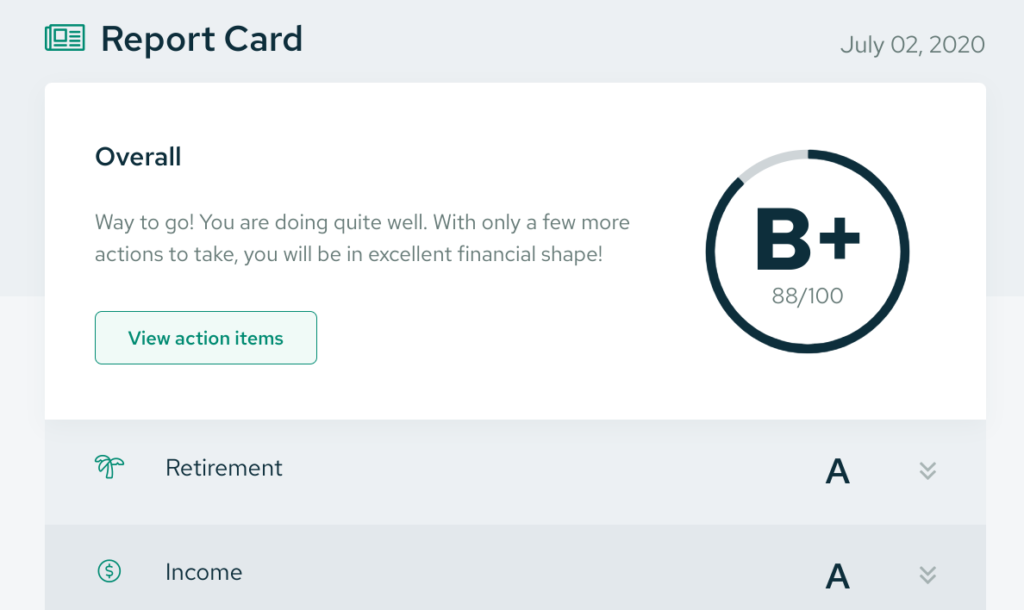 However, a C grade on the "insurance" category and an F grade on "estate planning" kept me from enjoying an "A" or A+" grade overall.
This is where Savology's technology really shines. It helped me identify the biggest cracks in my financial armor. In fact, it created me a list of "action items" to take to better protect myself and my family.  It even offered additional modules to help me find more specific ways to refine my financial plan.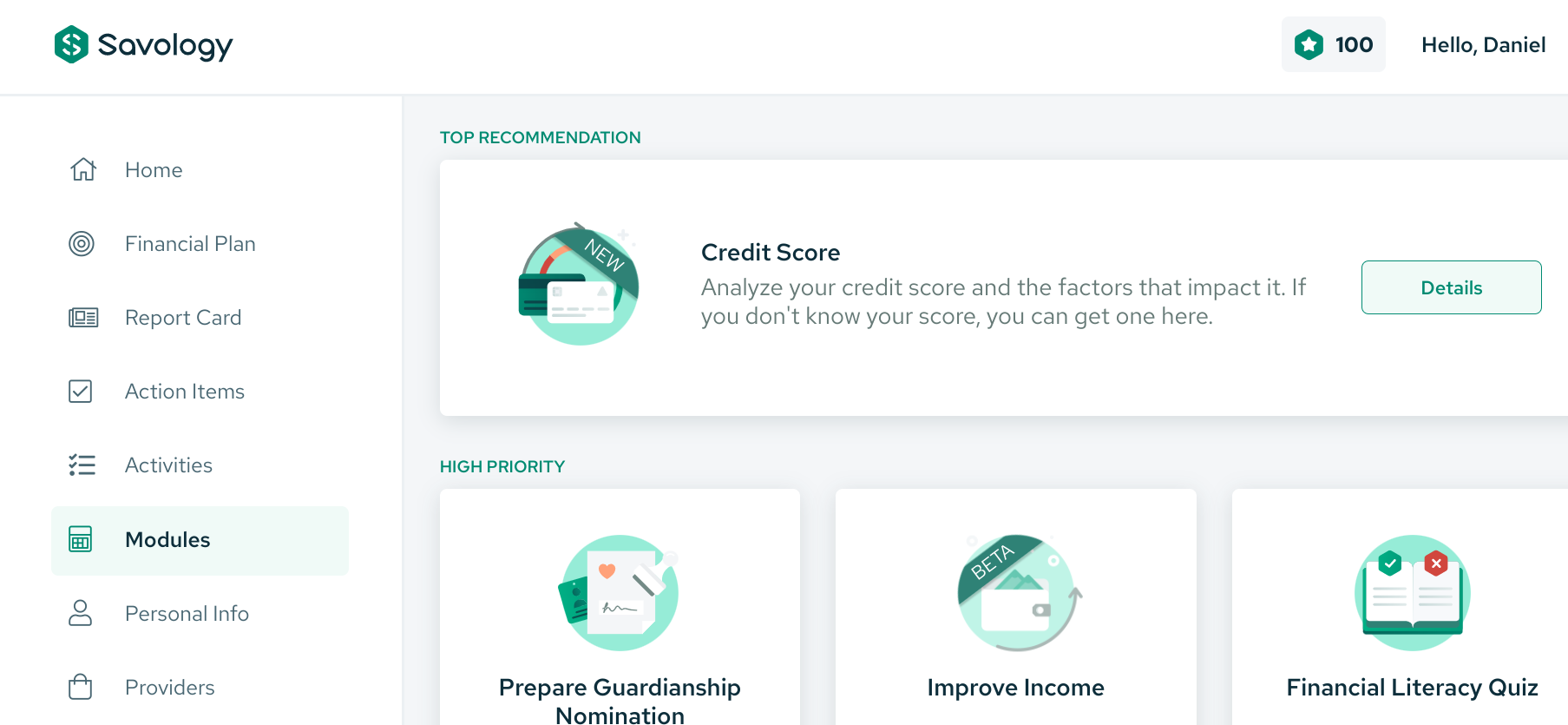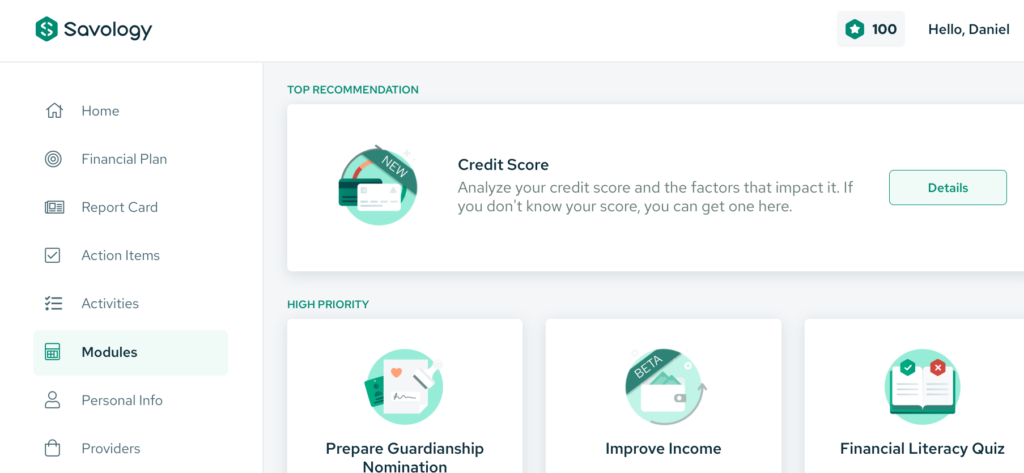 Overall, I was impressed with how seamless Savology's software worked. It immediately helped me feel more confident about where I was today, while clearly providing the steps I needed take to get where I wanted to be tomorrow.
How Savology Makes Money
So how can Savology offer all of these tools and features for free? How do they make money? Savology generates revenue by recommending (and driving traffic) to its partner service providers. If you currently use other free financial services like Mint or Credit Karma, Savology's business model will feel familiar to you.
For example, if it turns out that you really need to buy life insurance, Savology has a few insurers that it can recommend. Or, if you need to start investing for retirement, it can recommend affordable brokers or robo-advisors.  Here are just a few of the 20+ hand-picked providers Savology works with:
Ladder
Zebra
Ally
Betterment
Robinhood
Policygenius
You Need A Budget (YNAB)
You are in no way obligated to use any of Savology's recommended providers. If you do choose to use one (or more) of them, you can help support Savology by using its referral links. But, regardless, the platform is 100% free to use.
Alternatives to Savology
There are few free services that are able to offer the kind of depth that Savology offers with its financial plans. While many websites and tools offer budgeting or investing advice, Savology takes things a step further by considering your entire financial picture, including things like your insurance and estate planning situation.
But while Savology is really unmatched right now in its breadth, other tools offer more depth in certain areas. For example, if you're specifically wanting to optimize your portfolio and get investing advice, you'll probably want to use a portfolio analysis tool like Personal Capital or a robo-advisor service.
Savology isn't trying to serve as a "be-all, end-all" tool for your financial journey. Instead, its simply trying to act as a hub where you can see your entire financial picture in one place. And it can serve as a jumping off point for diving deeper into budgeting, investment planning, or insurance by recommending providers that specialize in those fields.
Conclusion
I look at Savology a lot like Mint (still one of my favorite budgeting apps). Its a tool that requires no financial commitment whatsoever. So why not give it a try?
At worst, you may find that Savology doesn't address all your financial questions. That's fine. If Savology's free financial plans aren't personal or deep enough for you, you can always schedule an appointment with a fee-only financial planner.
But, at best, you might find that Savology really helps you gain traction towards reaching your financial goals.  And that's a serious potential benefit that's certainly worth a few minutes of your time. Try out Savology today!