Founded by Travis Hornsby (CFA), Student Loan Planner is a student loan advisory service. Before diving headfirst into my Student Loan Planner review, I need to give one quick disclaimer.
Student Loan Planner also has a blog that I write for on a regular basis (give the team photo above another glance and you'll see yours truly on the left.)
But I write for a lot of websites. And I haven't felt compelled to write a review of any of them.
But Student Loan Planner has had a different kind of impact on me. Through my work with Student Loan Planner, I've seen firsthand the amazing work that Travis and his team do on a daily basis.
I've interviewed borrowers who have gotten help. I've read the stories of clients who had been dealing with depression (and even considered suicide) because of their student loans but felt their burden lifted after their consultation.
So while many "coaching" and "consulting" services are a waste of money, that's not the case with Student Loan Planner. It's the real deal. Read my full Student Loan Planner review to learn more.
What is a Student Loan Advisor?
A student loan advisor is someone who looks at your student loan situation and can help you pick the best repayment strategy.
A student loan consultant can help you navigate these student loan questions. Unfortunately, the student loan industry is incredibly complex. Choosing the wrong repayment strategy can cost you tens, and in some situations, hundreds of thousands of dollars.
What Makes Travis and the Student Loan Planner Team Different?
Although there are other student loan advisory services out there, there are a few things that set Travis and his team apart. Here's why I can highly recommend them.
1. Expert Knowledge and Advice
When I started writing about personal finance, I thought I knew a lot about student loans.
And then I met Travis Hornsby.
Travis is an absolute encyclopedia of student loan information. I've learned so much from him about the intricacies of student loan repayment and continue to each week.
Travis is a CFA. And before he began Student Loan Planner he was a bond trader for one of the world's largest investment companies. But he left Wall Street because he wanted to help people with student loans. His wife is a physician and he was shocked by the amount of student debt she was saddled with.
To decide which repayment strategy would be most affordable, he built the world's best student loan calculator (like any normal person would). His calculator doesn't just take the loan total and interest rate into account. It considers a host of factors including:
Income
Marital status
Whether or not you have kids
Where you work (private or public sector).


The Student Loan Planner calculator will compare the 10-Year Standard Repayment Plan, vs IDR, vs refinancing. And it will even compare each type of IDR plan to show you which one could save you the most money.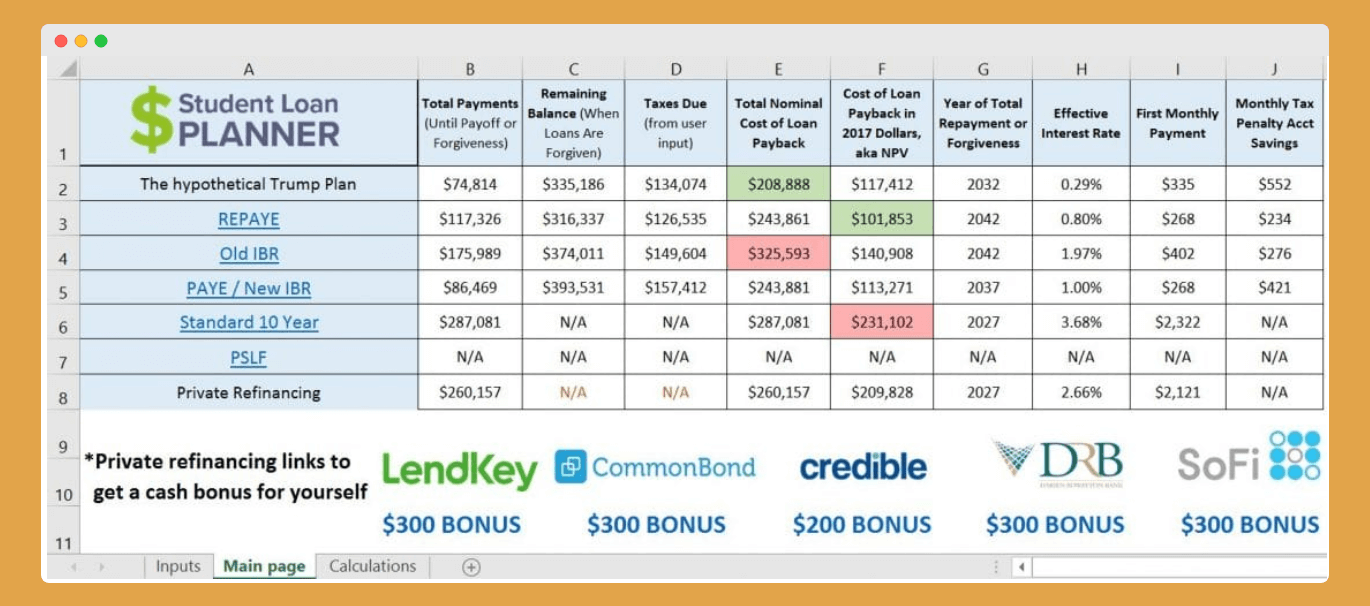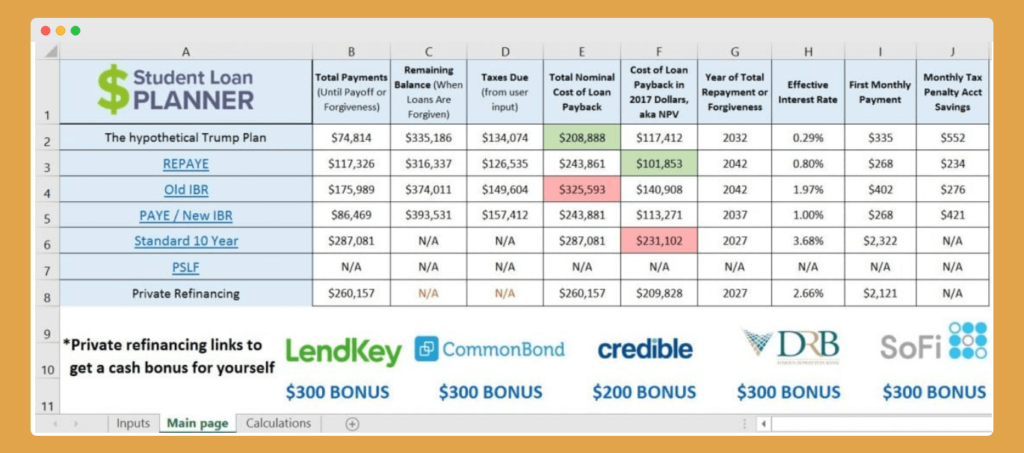 But the calculator was just the beginning. Not long after building the calculator, people started bombarding Travis with student loan questions. And eventually, people were even willing to pay him for consultations.
And, thus, Student Loan Planner was born.
2. Certified Consultants
As the Student Loan Planner business grew, Travis needed to add more consultants to his team. One of the things that's really great about his team of advisors is that they all have either the CFA or CFP designation.
With Student Loan Planner, you're not just getting advice from people who call themselves "experts." You're getting the chance to talk to someone who's spent years receiving formal training and experience in the world of finance.
3. A Team That Really Cares
I know this sounds like a super subjective point. But I can't say enough about the sincerity of the Student Loan Planner team.
Every week, the team is talking back and forth on Slack about ways to help people better. They truly feel heartbreak when they hear from readers who are overwhelmed by student loan debt. And they get all geeked up whenever they hear success stories.
Personally, it's been refreshing to interact with people who care so deeply about their work.
Why Pay for a Student Loan Consultation?
If you're dealing with crushing student loans, there are multiple repayment options from IDR, to PSLF, to refinancing.
But here's the deal. Bloggers (like yours truly) have an incentive to heavily encourage the last option. Why? Because they can make a lot more money when you click on a refinancing link vs. deciding to stick with your normal repayment plan or switching to Income-Driven Repayment.
There are plenty of times that refinancing could truly save you money. But there are also many times when refinancing would not be your best decision.
The great thing about paying a flat fee for student loan advice is that you take bias out of the picture. When you meet with a consultant from Travis' team, you don't have to worry about conflicts of interest. Whatever is the best choice for you is what your consultant will advise you to do.
How Much Does a Student Loan Planner Consultation Cost?
The consultation fee varies based on the amount of student debt that you're dealing with. The more debt you have, the higher the fee. The reason for this is that Travis and his team can save borrowers with high student debt totals a lot more money overall.
Here are the three pricing tiers:
Less than $200k of student debt: $295
$200k to $400k of student debt: $449
Above $400k of student debt: $595
Is a consultation worth the money? In most cases, absolutely!
Student Loan Planner has helped over 2,500 clients save an average of over $60,000 over the life of their loans. Combined, their clients have received over $120 million in projected savings!
But don't just take my word for it. Listen to their customers. Student Loan Planner has a 4.9-star rating on Shopper Approved from over 200 reviews.  And if those reviews don't convince you, check out this awesome video review from David B.
Who Would Benefit From a Student Loan Planner Consultation?
If you have over $20,000 in student loans, it could be worth it to set up a consultation. Below that, you may not get enough value out of an appointment and should probably just try to repay your loans as fast as you can.
The larger your student loan balance, the more money you could save by using Student Loan Planner. They've worked extensively with doctors, veterinarians, dentists, lawyers, and many other professionals that are known for accumulating large student loan balances.
Trust me when I say that no student loan balance will surprise Travis and his team. The average client that works with them has a student loan balance of over $260,000!
Conclusion:
I'm not a "glowing" review kind of guy. If you've read any other content on my site, you know I prefer muted and subdued praise. But with Travis and the Student Loan Planner team, I honestly believe wholeheartedly in what they're doing. They're helping lots of people find student loan relief.
And if you have a high student debt total, they could very well help you too. Click here to book a Student Loan Planner consultation.