Before my wife and I launched our Airbnb listing in May 2018, we researched the pros and cons of Airbnb hosting. And we tried to learn what we'd need to do to succeed. One of the things that kept popping up in our research was the importance of being "Airbnb Superhosts." "What is an Airbnb Superhost, anyway?" we asked ourselves? "And how do we become one?"
After a little digging, we got to the bottom of things. And then we implemented a few strategies to work toward Airbnb Superhost status. Less than 6 months later, we were bonafide Airbnb Superhosts.
In this guide, I'll explain how you can become an Airbnb superhost fast. We'll also take a look at whether Airbnb Superhost status even matters — from both a guest and hosting perspective.
What is an Airbnb Superhost?
Superhost status is simply a way for Airbnb to highlight hosts that have a track record of high quality. From a guest perspective, Airbnb Superhost status increases trustworthiness. Get started as an Airbnb host.
Staying at a random person's house can be an uncomfortable thing for many people. But if you choose a Superhost, you'll at least know that they've been around for a while and have received good reviews from several guests. And, as a host, Superhost status gives you instant credibility.
How Do You Find an Airbnb Superhost?
It's easy to find Airbnb Superhosts. All you have to do is look for listings that have the Airbnb Superhost badge.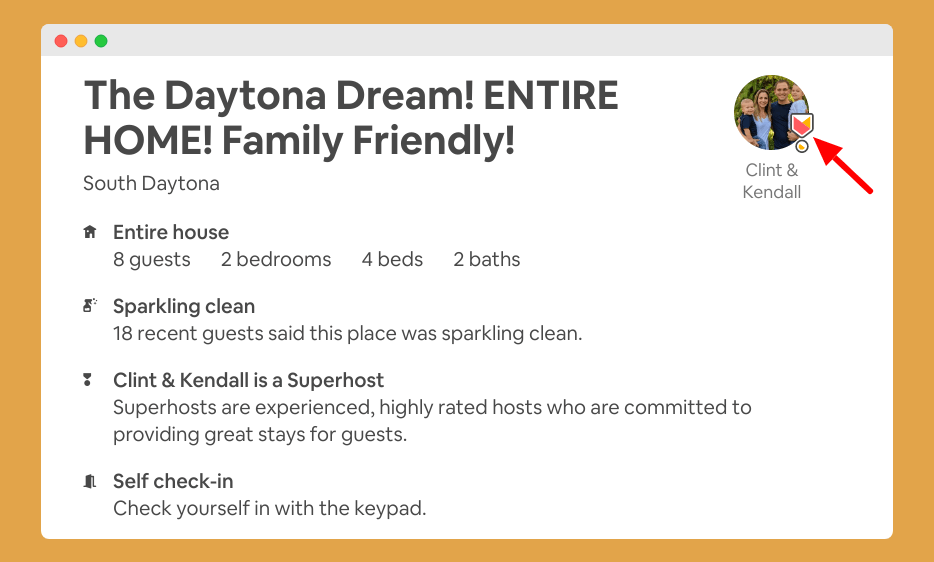 If you're browsing through a grid of listings, Airbnb will note the properties that have Superhost status, like what you see below.


Finally, you can actually filter your searches to only show properties from hosts that have Airbnb Superhost status.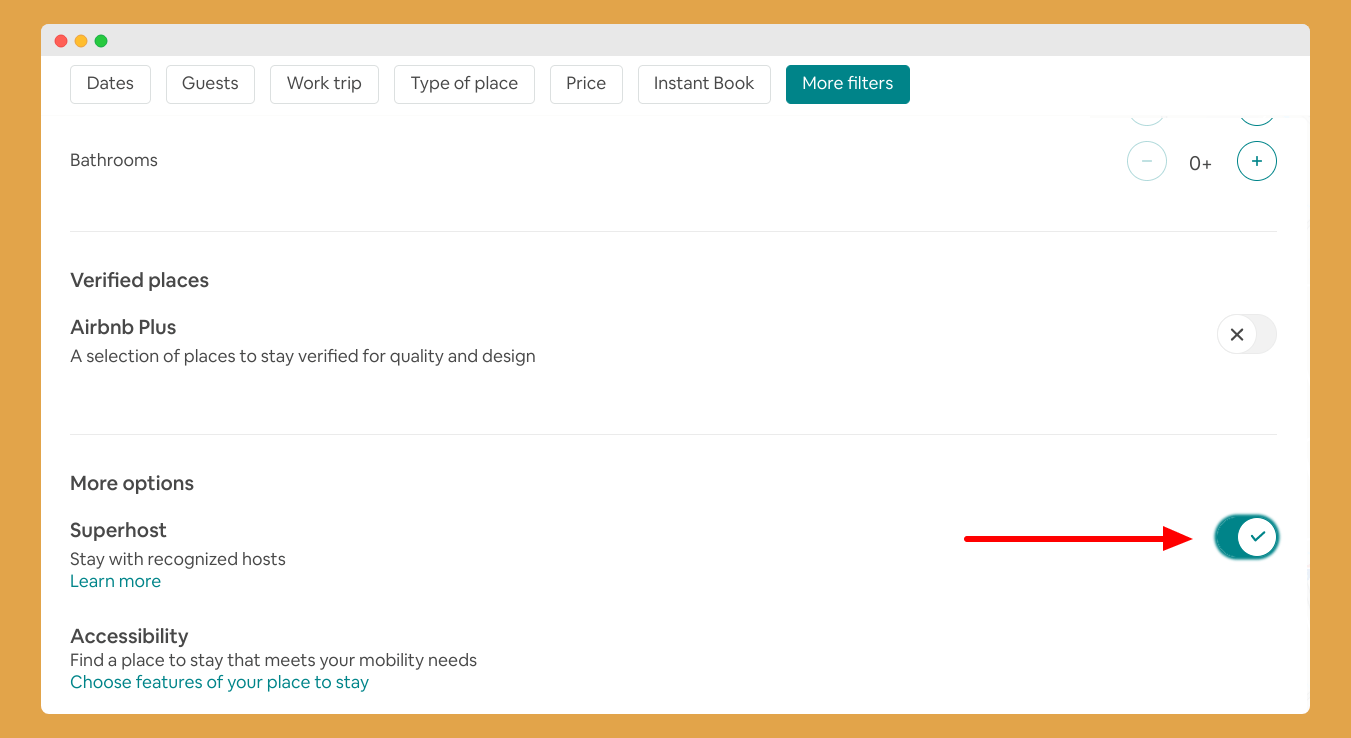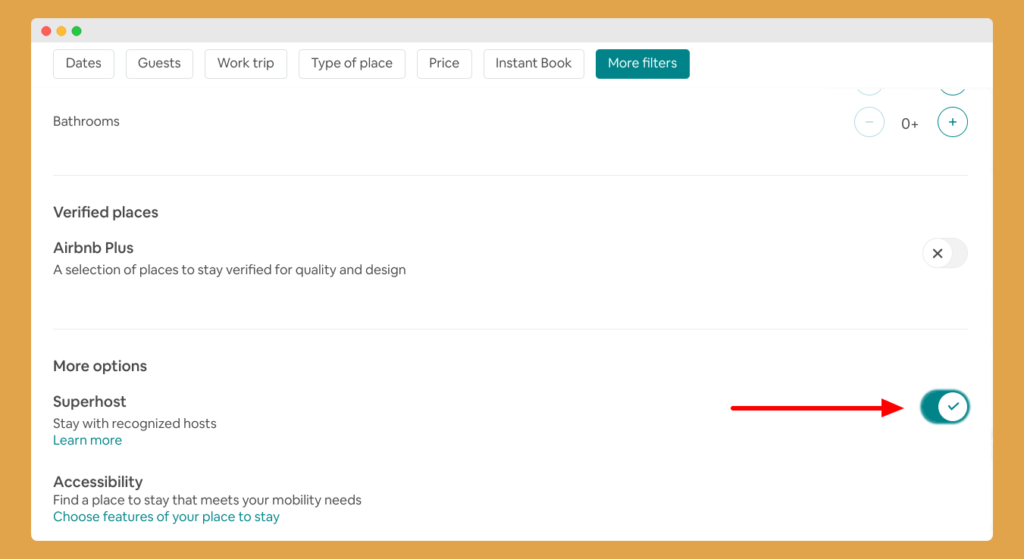 What Are the Airbnb Superhost Requirements?
In order to become an Airbnb Superhost, your listing must meet several criteria. Here are the four things you'll need to do before you can reach superhost status.
Complete at least 10 trips (OR complete 3 reservations that are at least 100 nights)
Maintain a 90% or higher response rate
Maintain a 1% cancellation rate or lower
Maintain a 4.8 overall rating (based on reviews from the last 365 days)
You can't apply for Superhost status. Airbnb automatically reviews each listing every quarter to see if you meet the requirements. Quarterly reviews happen on January 1st, April 1st, July 1st, and October 1st.
The bummer of this set-up is that you may hit all of the criteria right after Airbnb does one of its quarterly reviews. And, in that case, you'll have to wait for 2 to 3 months until their next review before you can get the Superhost badge.
Sign up to become an Airbnb Superhost
How to Become an Airbnb Superhost…Fast!
Ok, so let's get into the nitty-gritty of how to become an Airbnb superhost. I'll give you some tips that will help you meet all four requirements fast.
1. Completing Your First 10 Trips
This can be a hard one for new hosts. You need to have at least 10 completed bookings to become a Superhost.
But how do you attract those first 10 guests when you don't have any track record or reviews?
Honestly, it all comes down to the two P's — pictures and pricing. In lieu of reviews and completed trips, you're going to need lots of high-quality pictures to build trust.
Get a good camera and wait for a well-lit day. And then take pictures of every nook and cranny of your place. Don't just show the outside of the house or the living room. This will set off alarm bells in the minds of potential guests that you may be "hiding" the rest of your house because it's undesirable.
Also, the fact of the matter is you're going to need to offer your place at a discount to entice your first few guests.  When you're setting up your listing, Airbnb will ask you if you'd like to offer a 20% discount for your first 3 reservations. I would do this because it will help you rank higher on searches for your first few weeks on the Airbnb marketplace.
It's vital that you're able to get positive reviews from your first few guests (more on how to do that later). If you're able to do that, your credibility will rise and you can raise your prices in tandem.
2. Maintaining a 90% or Higher Response Rate
In order to maintain a response rate of 90% or higher, you'll need to do the following within 24 hours.
Accept or decline reservation requests
Preapprove or decline trip requests
Reply to new inquiries from guests
How can you make sure that you don't miss booking requests or inquiries?
The best way is to download the Airbnb app. By doing that, you'll get notified on your phone every time you receive a message. If you don't want to download the app, you can also set up SMS notifications.
Instant Book
Another way to improve your response rate is to turn on Instant Book for your listing. With Instant Book, guests can book your Airbnb without your manual approval.
There is a lot of mixed feeling about Instant Book in the Airbnb hosting community. A lot of hosts are strongly against it. Their reasoning is that they don't want rowdy or inappropriate guests being able to stay at their home without permission.
However, what many people don't understand is that you can cancel Instant Book reservations without penalty if you're uncomfortable with a guest. Airbnb gives a few examples of perfectly acceptable reasons to cancel an Instant Book reservation.
The guest has several unfavorable reviews that concern the host.
The guest hasn't responded to questions the host needs to know about their trip.
The guest makes it clear they'll likely break one of the host's house rules, like bringing a pet or smoking.
With this security blanket in the back of our minds, we've kept Instant Book active on our listing from the beginning. We've never had any issues. And it seriously cuts down on our booking request-response workload.
Sign up to become an Airbnb Superhost
3. Maintaining a 1% Cancellation Rate or Lower
There's nothing more frustrating to a guest than to think they have a place lined up for their vacation, to only later have their reservation canceled because the host forgot they were going to be out of town (or some other silly reason).
Airbnb knows that kind of experience can really turn off guests, so they severely penalize hosts for canceling reservations that were previously accepted. And when it comes to keeping your Airbnb Superhost status, you can have no more than 1 cancellation out of your last 100 trips.
As mentioned earlier, Instant Book cancellations do not count against your 1% max. But let's talk about how you can avoid canceling reservations that were manually accepted.
How Can You Avoid Canceling Reservations?
The first way is to make sure you always check your calendar before accepting a reservation. The social calendar isn't typically the problem for hosts. The bigger issues arise when you have your property listed on multiple sites.
For instance, in our case, we also have our house listed on HomeAway. And until we figured out how to sync both sites' reservation calendars, it was possible for different guests to book the exact same dates.
This actually happened to us once and it was one of the most stressful experiences of my life. To avoid having to cancel our Airbnb guest, I had to beg and offer a huge discount if they would move their reservation to different dates. Thankfully, the guest agreed to move their trip to the next weekend. But if that wouldn't have been possible for them, we would have had to cancel the reservation.
If you do plan to list your short-term rental on multiple sites, make sure to link the calendars whenever possible. Or, at the very least, make sure that only one of the sites allows instant booking.
4. Maintaining a 4.8 Overall Review Rating
Obviously, in order to get good reviews, you'll need to provide a good experience for your guests. Without that, nothing else matters. If you're wondering what it takes to have a great Airbnb, check out what I learned during our first 6 months as hosts.
But, beyond your guest experience, my favorite way to get more 5-star Airbnb reviews is to simply ask for them. We did this a lot when we were first getting started. And if they were conscientious guests, I would let them know that I had left them a great review as well.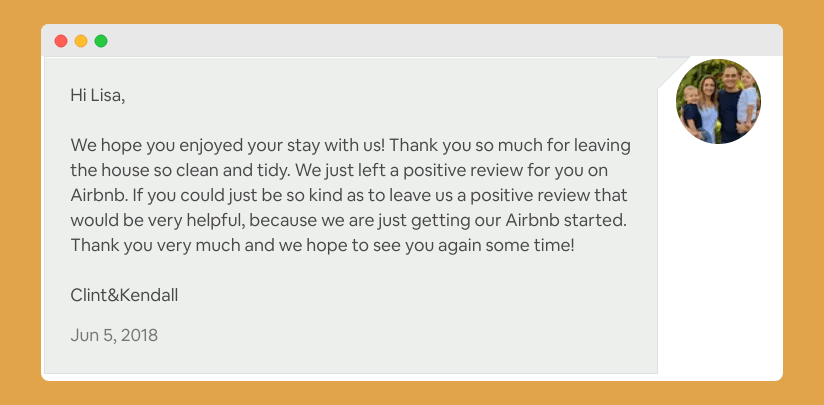 This worked really well for us. Sometimes I would send this message within a day or two of checkout. Other times, I would wait to see if they would leave a review without prompting.
If they didn't, I would reach out and let them know that they still had a few more days to leave one (guests have up to 14 days after checkout to leave reviews). We were able to get a few positive reviews in the 11th hour using this method.
Conclusion:
Will becoming an Airbnb Superhost dramatically increase the number of bookings you receive on a monthly basis?
In our experience…no.
But I still think it's worth pursuing. Extra credibility can only help you as an Airbnb host. And by following the tips in this guide, you can gain that Superhost credibility quickly and with relatively little effort.