Whenever I talk to people about the importance of getting life insurance, I'm usually met with a lot of groans and eye rolls. The fact is most people think that purchasing life insurance is a long and drawn-out process. And it just always seems to be a "bad time" for a long, drawn-out process.
But the problem is that purchasing life insurance could be one of the most important financial decisions that you make throughout your life. So whenever I hear of life insurance companies that are trying to make the life insurance process easier, I get excited.
Enter Haven Life. Haven Life is a company that's trying to make it dead-simple to buy life insurance. And, for many customers, they can offer instant decisions on medically underwritten policies. Yes, you read that right.
In our full Haven Life Review, we'll take a look at how their process works and whether or not they could be a good fit for you.
How Can Haven Life Give Instant Decisions on Medically Underwritten Policies?
In the past, whenever I would hear about companies that offered "instant" life insurance policies, I'd tell people to stay away. And here's why.
"Instant" and "medically underwritten" are usually mutually exclusive terms. Historically, life insurance companies that offered instant policy decisions were offering Simplified Issue or Guaranteed Issue products. And those products are more usually much more expensive than a fully medically underwritten policy.
So, traditionally, you'd only want to skip the underwriting process if you were someone who was in poor health. But everyone else would save a lot of money by going through the hassle of the medical exam process.
Haven Life Instant Term
But Haven Life has turned that traditional advice on its head with its Instant Term process. When you apply for a Haven Life term policy, they'll ask you questions about your lifestyle and health. Then, when you submit your application, they'll fact-check the information you provide with third-party vendors. Examples include the:
Medical Information Bureau
DMV
Social Security Administration
Then, Haven Life's algorithm works its magic. And, if everything checks out, you can receive instant coverage. And the price you're quoted should be competitive with what you'd receive from other insurers for fully medically underwritten policies.
But if you have a complicated medical history, Haven Life may still require you to take a medical exam. And if a medical exam is required, you can expect the time frame to be similar to the typical life insurance process (90 days or less).
What Kinds of Life Insurance Does Haven Life Offer?
There are two main types of life insurance: term and permanent insurance. Haven Life only offers term insurance. For most people, term life insurance is their most affordable option anyway. So that really shouldn't be viewed as a "limitation."
However, if you wanted to convert your term policy to a whole-life policy down the road (as some other insurers allow), that won't be possible with Haven Life.
Related: Do I Need Life Insurance in My 20's?
Should I Be Worried That Haven Life is a New Company?
Haven Life was founded in 2015 by CEO Yaron Ben-Zvi. His goal was to make the life insurance process easier and less time-consuming.
That's great. But you may be concerned about using a life insurance company that's less than five years old. Term life insurance policies can come with terms as long as 30 years. Who's to say whether Haven Life will still be around 30 years from now?
Here's the good news. Haven Life is backed by MassMutual — one of the most trusted life insurers in the industry.
MassMutual has been in business for over 160 years. And they currently have an A++ rating from A.M. Best (the highest possible rating). With MassMutual's backing, you should feel completely secure in taking out a Haven Life policy.
What Extra Benefits Does Haven Life Offer Its Customers?
There are a few perks that Haven Life offers on their policies. Every policy comes with the following benefits:
Accelerated Death Benefit: You can access some of your policy's benefits early if you're diagnosed with a terminal illness.
Commission-Free: Haven Life employees don't receive any commissions on the sale of policies.
Renewability: When you reach the expiration of your policy, you'll have the option to renew it on an annual basis.
Haven Life Plus
In addition to the benefits listed above, most customers have access to benefits through the Haven Life Plus rider as well. Haven Life Plus is very unique in that it doesn't provide traditional insurance riders.
Instead, it gives policyholders free access to subscriptions that would normally cost you a good chunk of change.
Trust & Will: Create a legally valid will in less than 10 minutes (normal value: $129)
Aaptiv: Audio-based fitness app (normal value: $99)
Timeshifter: App that uses sleep science to help you quickly overcome the effects of jetlag. (normal value: $24.99/year)
LifeSite: Secure online vault to store you and your family's important documents (normal value: $80/year)
MinuteClinic: Minute Clinic provides family health services inside Target and CVS stores. Receive a 15% discount on any CVS service
Again, Haven Life Plus is technically a rider. And it's currently unavailable in a few states: Florida, New York, North Dakota, South Dakota, and Washington.
How Much Coverage Can You Get Through Haven Life?
For applicants that are under 60 years of age, you can receive up to $3 million of coverage through Haven Life. Applicants ages 60-64 can apply for a Haven Life policy as well but can only receive up to $1 million of coverage.
Is Haven Life Affordable?
One question that I hear a lot in regards to Haven Life is whether or not they're a comparison shopping site. And the answer is "No." Haven Life doesn't have a comparison shopping tool like Policygenius or Quotacy. They only offer their own policies (backed by MassMutual).
But in my experience, their prices are very competitive. To test things out, I pulled a quote from Haven Life for the following criteria:
29-year old male
Excellent health
$500,000 of coverage
20 year-term
And here is the price that Haven Life quoted me.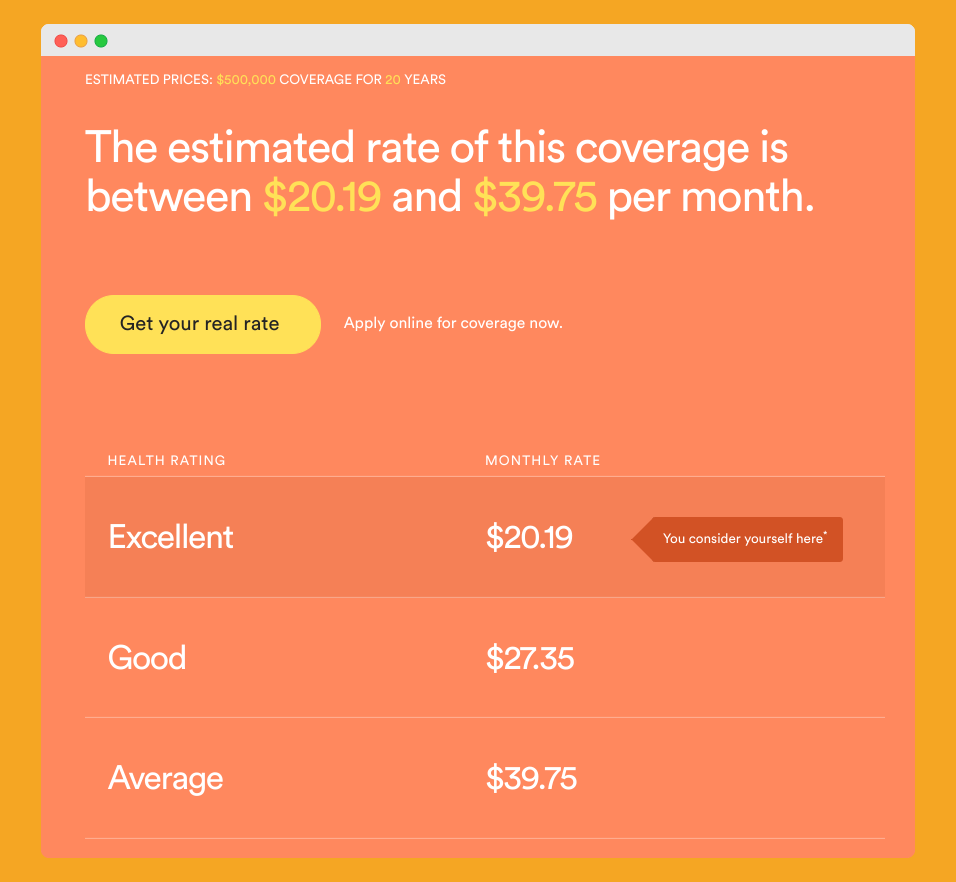 Next, I went over to Policygenius and got a quote from them using the same criteria. Here's the quote that they gave me.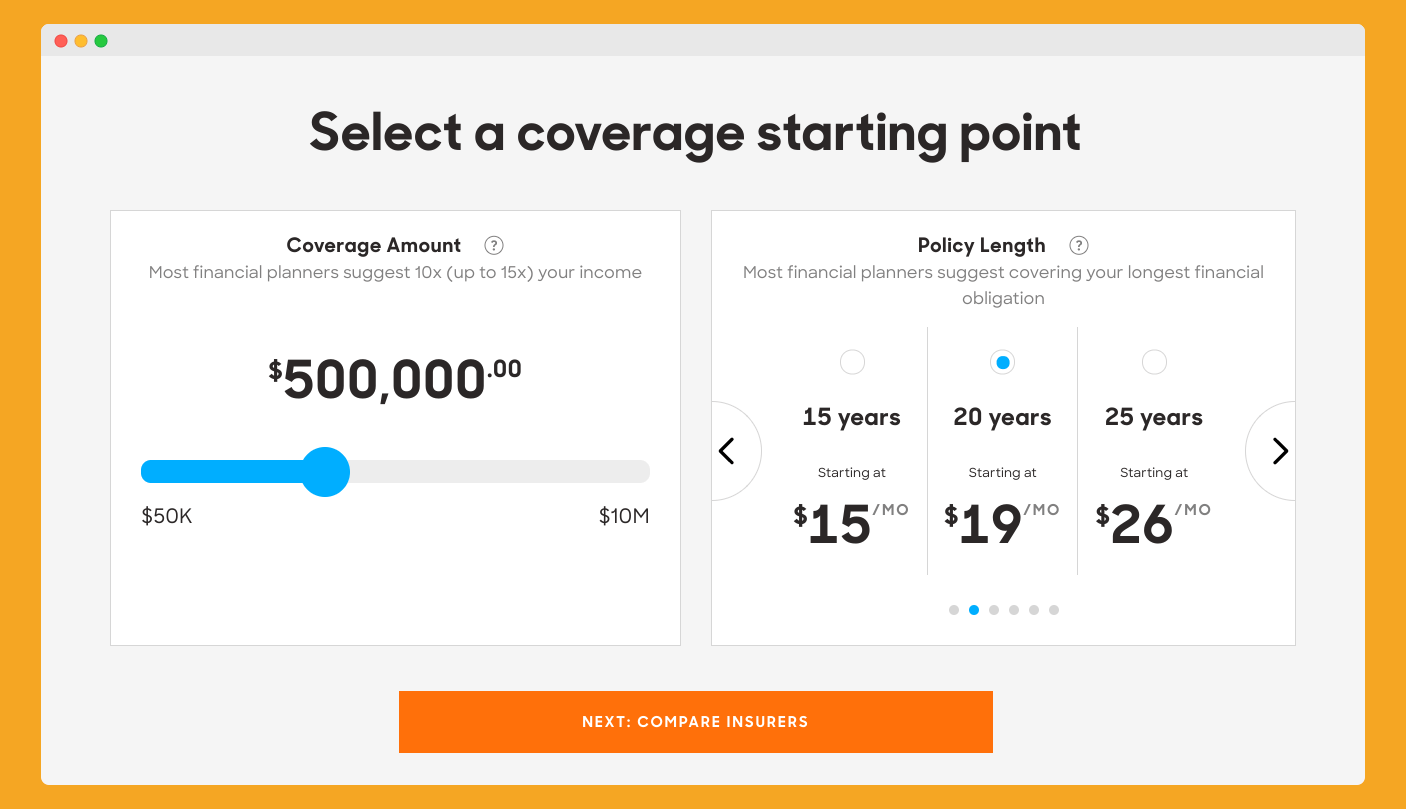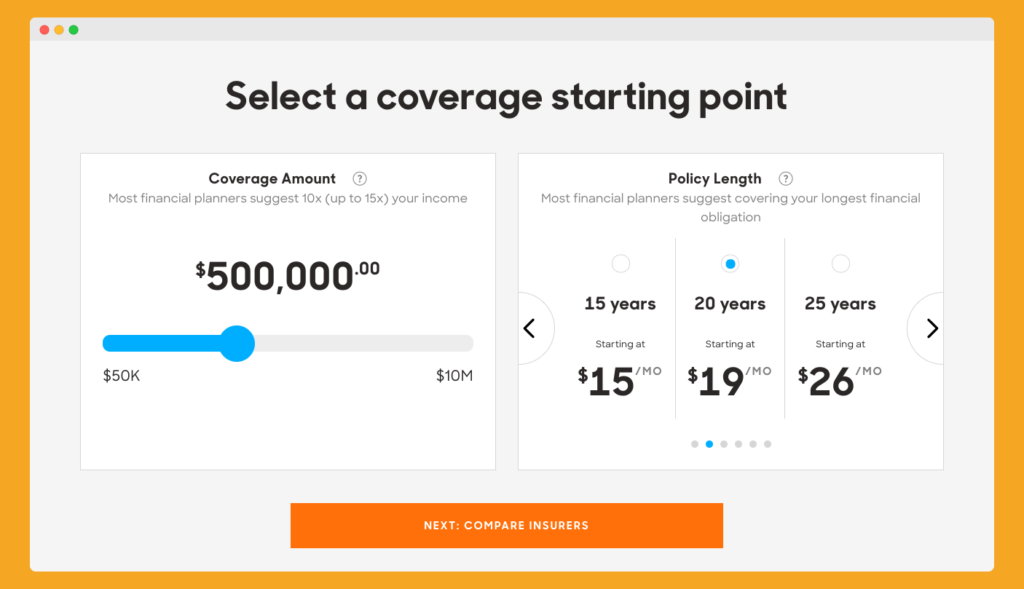 So, as you can see, the quotes are definitely in the same ballpark. As always, I highly recommend that you shop around for term life insurance. But I can confidently say that Haven Life doesn't try to leverage their Instant Term advantage to jack up their prices.
Conclusion:
To wrap up my Haven Life review, I'd say that they have a lot going for them. And they have an opportunity to really disrupt the insurance industry. In my opinion, it's definitely worth 10 minutes of your time to get a quote from Haven Life.
But don't just take my word for it. Check out some of their customer reviews on TrustPilot, where they have a 4.8-star rating out of 800 reviews. And if you decide to get a quote from Haven Life, make sure to compare it with quotes from at least two other leading insurance companies.