The best micro-investing apps for 2020 include something for everyone from the total newbie to the more savvy investor.
Nevertheless, 47% of Americans still aren't saving or investing any of their hard-earned dollars. And the main reason for this remains the same as its always been—fear. Fear of losing money they've worked so hard for, not to mention the frustration and embarrassment they expect they'd feel if they did actually lose money.
If you find yourself in this group and wish you knew more about investing, check out our lineup of the best micro-investing apps below. There's at least one app below that can help you learn more about investing in a fun, safe, non-intimidating way with others just like you—for free.
Once you're done checking out our micro investing app reviews, don't miss the end of this article where we answer some common questions about micro investing apps to help get you started.
1.
Acorns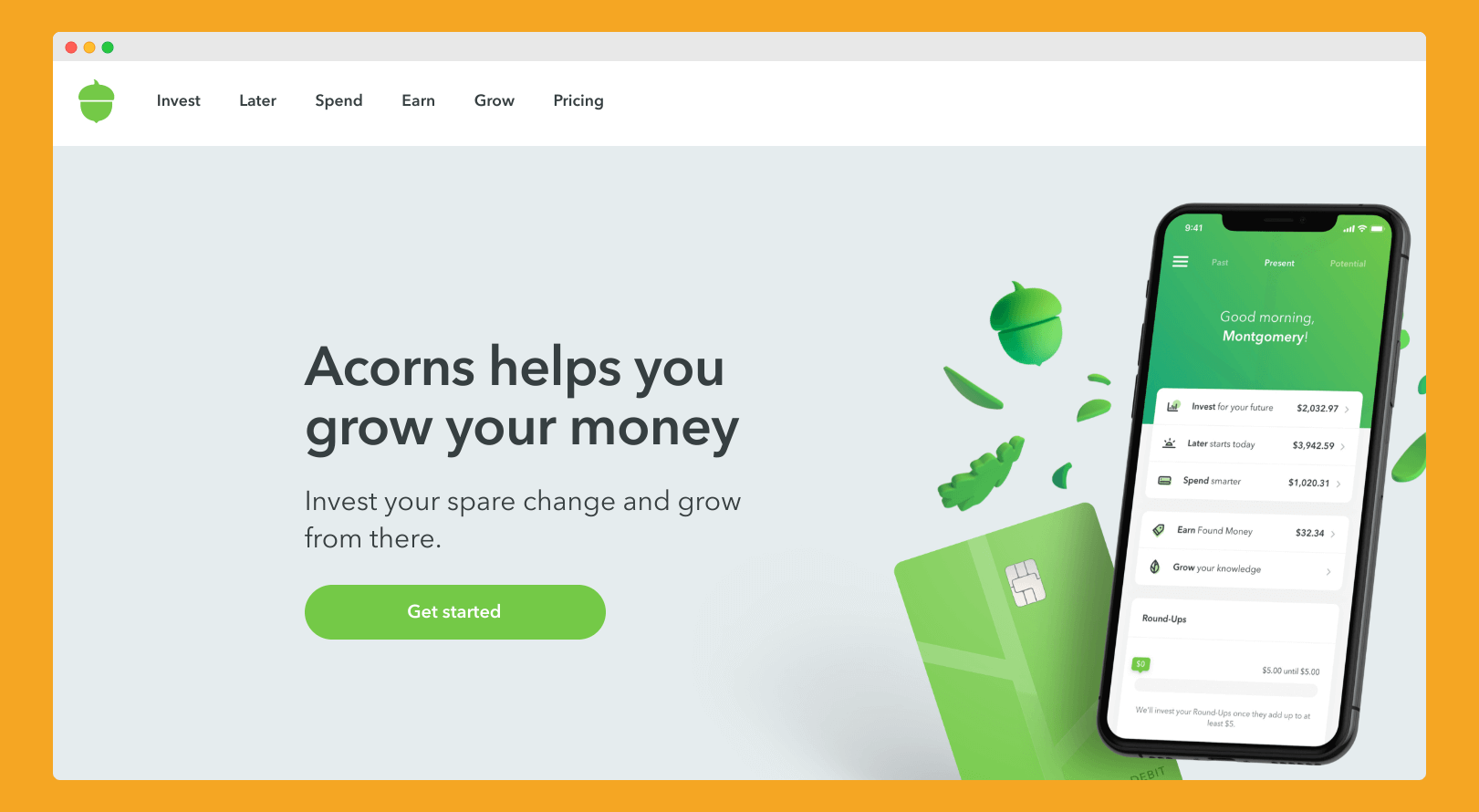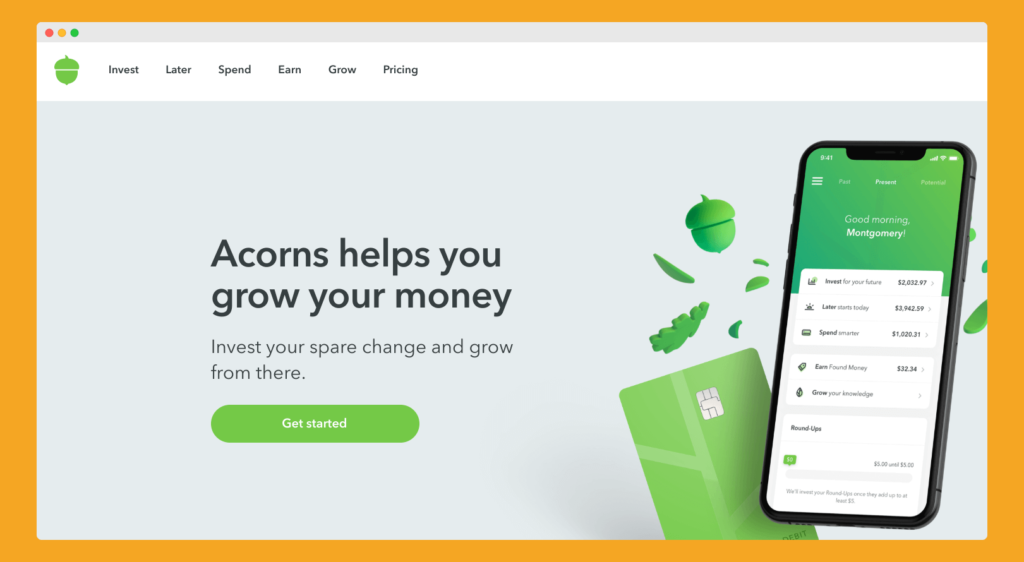 Cost: $1/ month
Account Min.: $0
Types of Investments: U.S. listed exchange traded funds (ETFs)
If you're looking to get your feet wet as a beginner investor and wondering where you'll find the money, it might be with the Acorns app. That's because Acorns is really 3 apps in one including a:
Purchase round-up app
Cash-back app, and a
Micro-investing app
Simply connect the cards you make purchases with to the app. Acorns will then start rounding up your purchases to the nearest dollar. Once at least $5 has accumulated in your Acorns account, the money is deposited in one of 5 different Acorns portfolios that are comprised of a mix of 7 possible ETFs (ETFs can include stocks and bonds).
For cash-back, check out Acorns' list of over 350 companies to see if you shop regularly at any of their merchants including Walmart, Nike, Lyft, Groupon, etc.
If you do, why not get rewarded for your purchases—in cash—through their Found Money extension that gets deposited in a portfolio selected for you? It's a smart way to earn cash-back and put that money to work for you before you're tempted to spend it. Get started with Acorns.
2.
Stash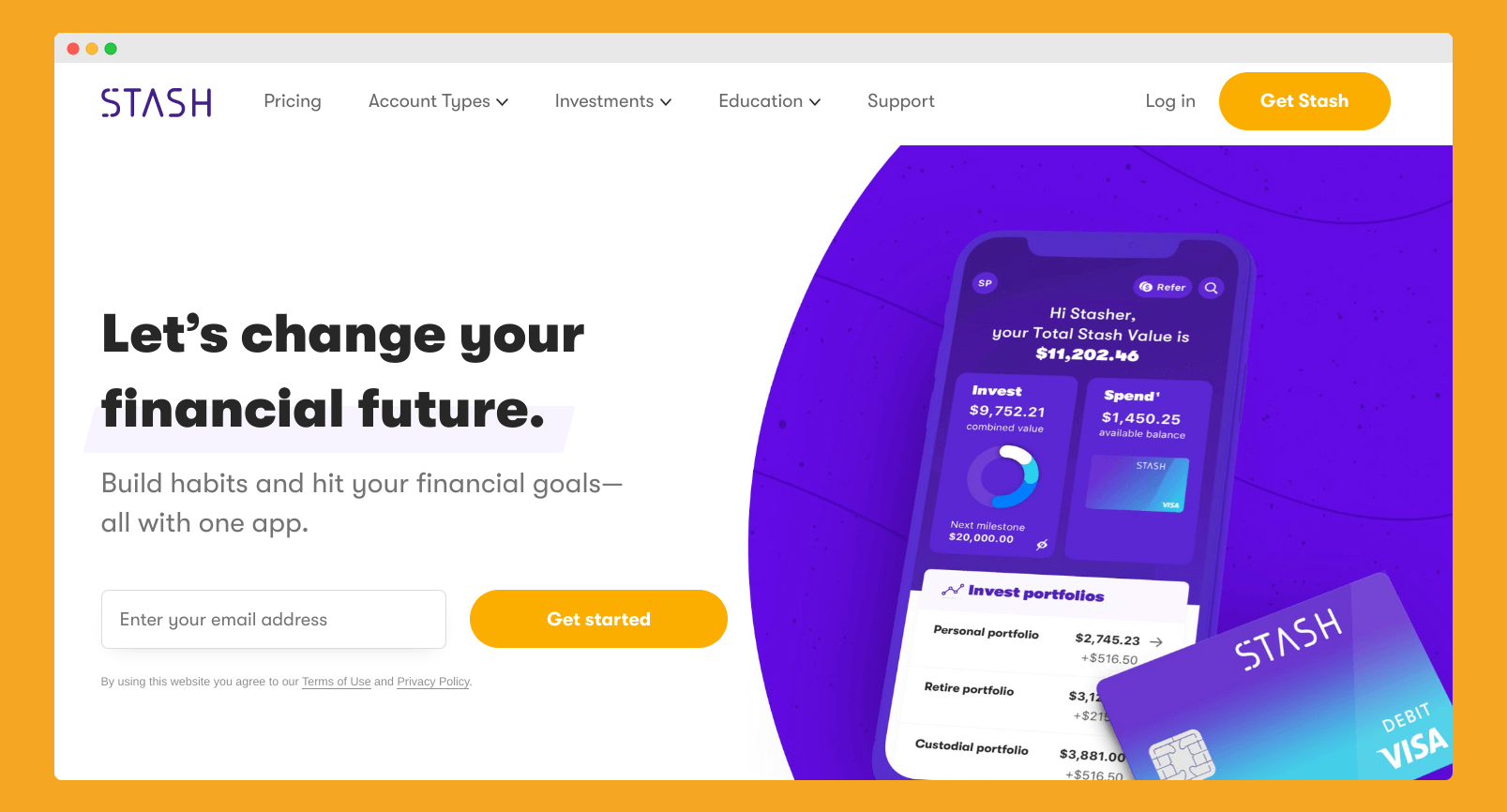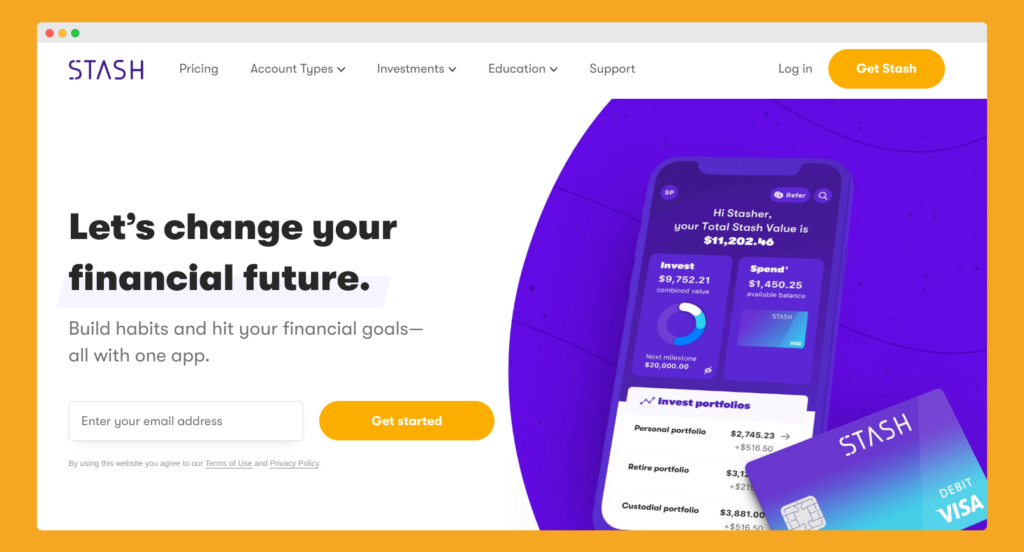 Cost: $1, $3, or $9/month plans to choose from
Account Min.: $0
Types of Investments: U.S. exchange-listed stocks and ETFs
Stash is another app that's great for beginner investors. It's similar to the Acorns app in terms of fees and micro-investing but without the cash-back feature from merchants.
Instead, Stash offers its investors a reward called Stock-Back in the form of partial or fractional shares in the affiliated companies that investors are making purchases from.
For example, if you make a purchase from Amazon, Stash rewards you with a fractional share of Amazon based on the cost of your purchase. If the affiliated company you make a purchase from is not publicly traded, Stash will invest your reward in a diversified ETF instead.
The downside is Stash's fees are higher than some other micro-investing apps or investment brokerages. Check out Stash.
3.
Robinhood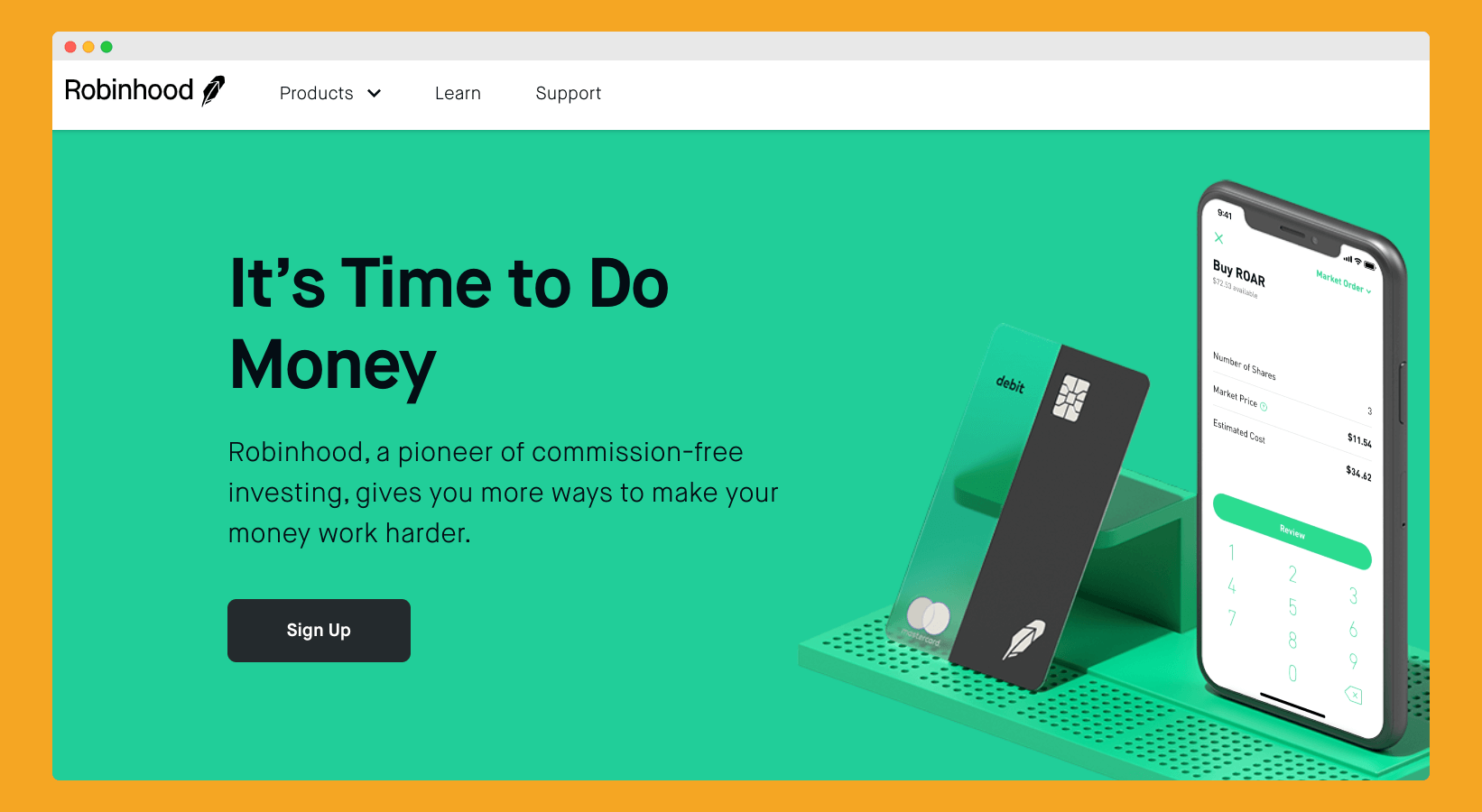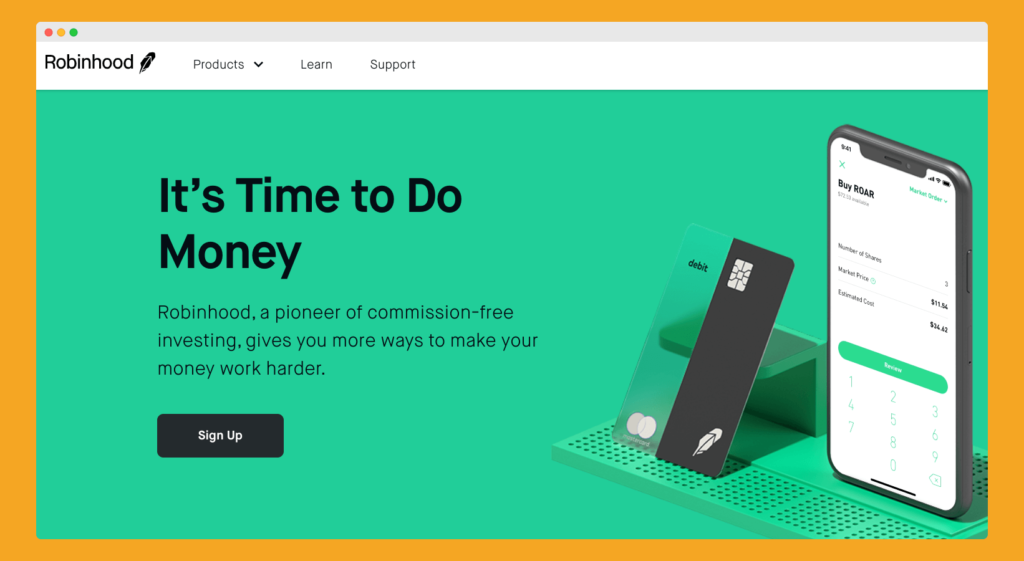 Cost: Free and commission-free
Account Min.: $0
Types of Investments: U.S. exchange-listed stocks and ETFs, options contracts for U.S. exchange-listed stocks and ETFs, cryptocurrencies (including Bitcoin and Ethereum), and American Depositary Receipts (ADRs) for over 250 globally-listed companies
Robinhood is a great app if you're a more seasoned investor and require little help picking your investments. Unlike most some micro-investing apps, Robinhood allows investors to engage in cryptocurrency trading and options. And best of all, these investments are completely commission-free.
It's important to note that Robinhood doesn't offer bonds or mutual funds to invest in. If you're looking for those types of investments, you'll have to check out one of the other apps.
Another shortcoming is that Robinhood only permits investments to be held through an individual taxable account. Tax-advantaged accounts such as 401(k)s and IRAs aren't supported currently.
It makes better financial sense to max out your 401(k) or IRA before putting money into a fully taxable account. After all, it's about keeping as much money in your pocket as possible.
4.
Axos Invest (formerly WiseBanyan)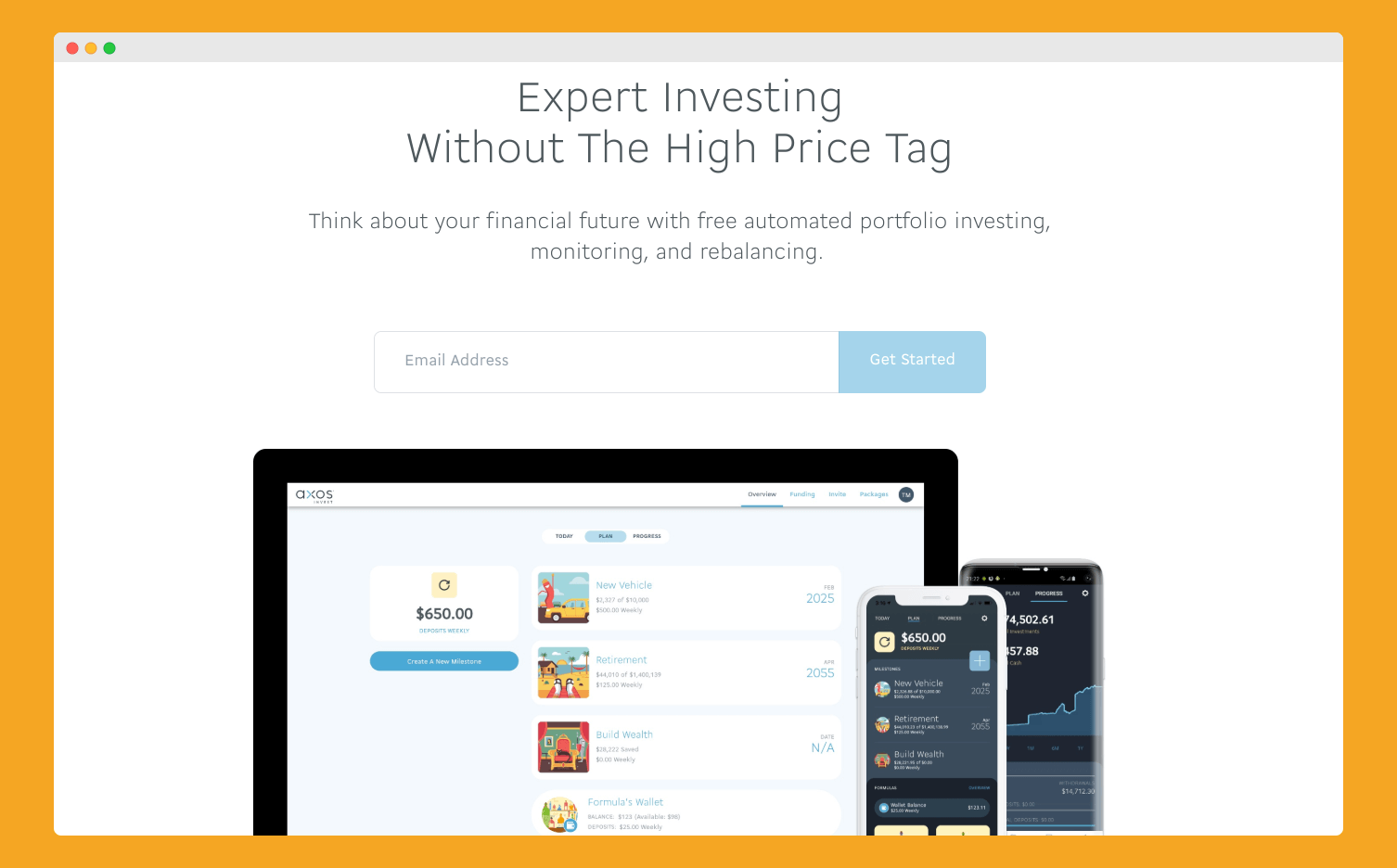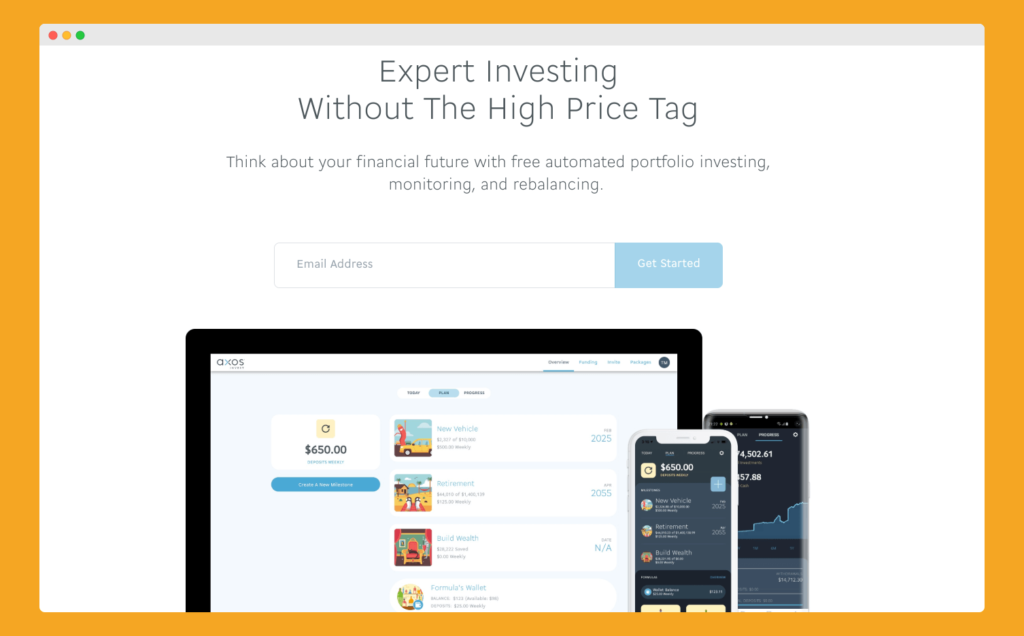 Cost: Free basic pkg., fees vary for premium pkgs.
Account Min.: $0 ($1 to open an account)
Types of Investments: ETFs
Axos Invest (formerly WiseBanyan) includes the assistance of a robo-advisor which may be an ideal low-cost way for you to get started if you're new to investing and need some help figuring out the best investments for your risk tolerance and financial situation.
Axos Invest's platform prompts you to answer several questions about your financial status and investment risk tolerance when you enrol. Based on your answers to these questions, Axos Invest's automated robo-advisor selects from over 1400 ETFs to compile a diversified investment portfolio for you (which is important for reducing your overall investment risk).
Axos Invest's user-friendly app is also easy to navigate, which makes the investment process much more comfortable for first-time investors.
5.
Invstr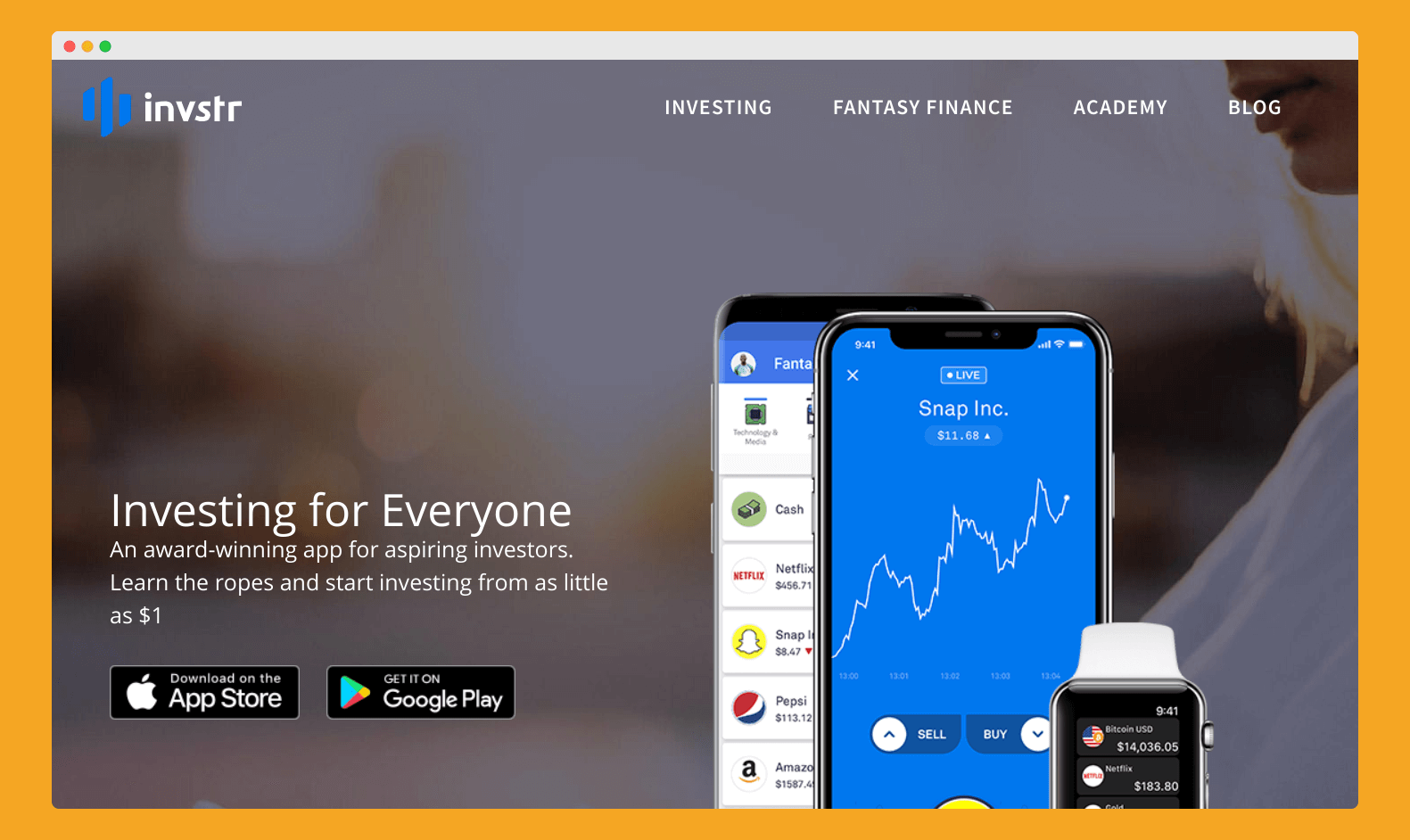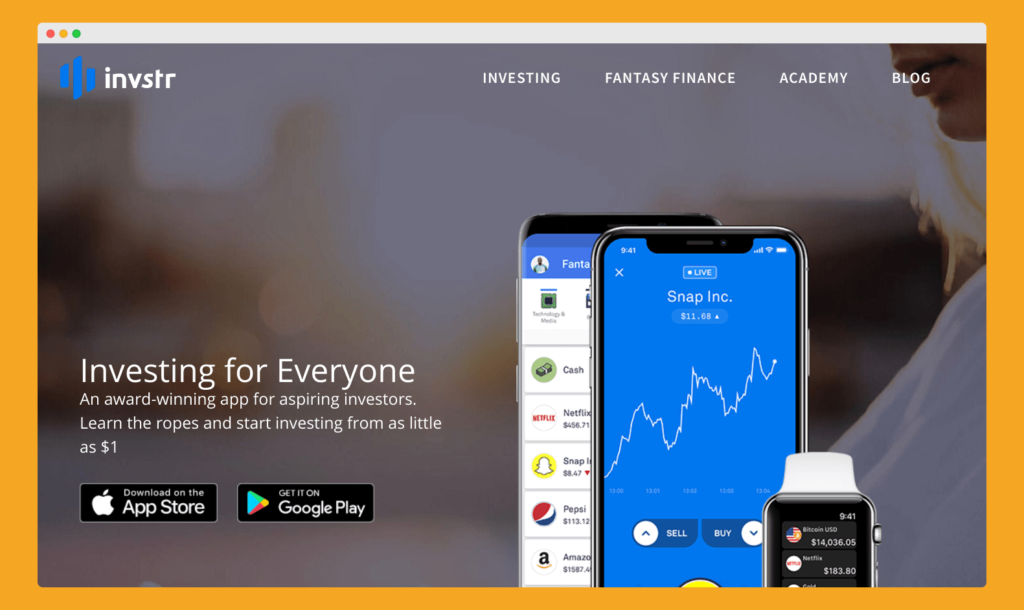 Cost: Free for basic pkg., premium service is extra, $0.99/fractional trade, $2.99 full trade
Account Min.: $0 (start investing with $1)
Types of Investments: U.S. exchange-listed securities, including stocks, ETFs, and ADRs
If you know nothing about investments and the stock market but want to have fun learning through gaming and a social network with other learners, Invstr is the micro-investing app you'll want to check out.
Invstr members are given $1 million of virtual money to use while learning to invest in the Fantasy Finance game that's part of the app. Members who do well in this investing and learning game are eligible to earn monthly prizes in the Invstr Fantasy League (IFL) leaderboard. You're promoted in "rank" from Apprentice to Guru on the Profile Scorecard as your investment ability improves.
Invstr members are also encouraged to complete the 10 interactive modules in Invstr Academy before investing real money through the app. By completing Invstr Academy, members learn a great deal about stocks, the stock market and financial markets as well as cryptocurrency.
FAQs About Micro-Investing Apps
Unfamiliar with micro-investing? Below you'll find the answers to some of your most burning questions.
What is Micro-Investing?
Looking for a good micro investing definition? Here's how Investopedia defines it:
"A micro-investing platform is an application that allows users to regularly save small sums of money. Micro-investing platforms aim to remove traditional barriers to investing, such as brokerage account minimums, to encourage people to invest even if they have limited incomes and assets."
Traditional investments can require minimum account balances such as $500 or even $5000 which some people don't have. Micro-investing allows people to invest without these hefty account balance requirements.
High investment fees have also been common with more traditional investments making them unattractive for potential new investors with smaller amounts of money. Micro-investing removes many of these barriers now by offering several apps and investing services for free.
Can You Make Money on Investing Apps?
That's a really good question—and the answer is yes. You can make money on investing apps. Keep in mind though that if you're investing small amounts of money, your dollar return will be small as well.
Also, it's important to remember you can lose money even with the best investment apps if you're putting your money in non-guaranteed investments such as stocks, mutual funds, ETFs, etc.
Are Investment Apps Worth It?
If you're still wondering "Is micro investing worth it?, the answer depends on what you're trying to achieve by using a micro-investing app.
If you're a newbie investor and want to connect with other like-minded people to start learning about investing, Invstr would be an excellent place to start.
If you like the idea of rounding up your spare change after your purchases and earning cash-back from merchants you shop at anyway, Acorns could be an great fit for you.
What is the Best Investment App?
Not surprisingly, the best micro-investing app for you will depend on what your investment goals are. All other things being equal, be sure to look for the app or company with the lowest fees (ideally none!).
Look at some of the online reviews of different investment companies you're interested. Check to see if members have had any difficulty transferring money out of an account. And pay attention to people are saying about the customer service quality.
Some well known investment apps did not make our list above because during our research. We came across customer reviews indicating people had difficulties with some investment companies. So be sure to do your homework before making your choice.
Whatever you do though, just get started! Some of the best micro-investing apps above offer lots of education about investing so it doesn't cost you a dime to get started on your path to a richer financial future.
Where are you at when it comes to saving and investing?